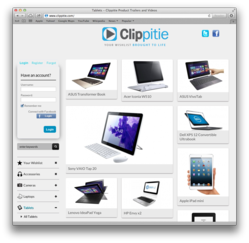 When people see products in action, they start to form a connection with the product immediately.
Dallas, TX (PRWEB) December 18, 2012
Clippitie launched a new website providing consumers with valuable product information in a convenient, entertaining and engaging format: video. Clippitie serves as a centralized location to browse and compare an ever expanding library of products, such as cameras, tablets and laptops. Tracking a user's favorite products is made easy by adding them to their wishlist, and the site also provides an avenue through which to make purchases from trusted retailers.
Intimately familiar with their products, product manufacturers produce the videos shown on Clippitie, giving them a visually appealing, clutter-free platform to communicate directly with consumers.
"Reviews are helpful when researching products, but they don't always provide the critical details that set products apart," said Clippitie co-founder Adam Crouch. "Reviews also fall short in communicating the look and feel of the product and its brand."
comScore reports that over 183 million Americans watched more than 37 billion online videos in October 2012 alone.
As marketers shift their strategies to gain attention in an increasingly interactive world, product videos are poised to be an area of rapid growth. A 2012 study by the Social Media Examiner found that 76% of marketers plan to increase their video marketing this year, making it the top area of investment for 2012 - and for good reason. According to Internet Retailer, 52% of consumers say that watching product videos makes them more confident in their online purchase decisions.
"When people see products in action, they start to form a connection with the product immediately," said co-founder Michael Bova. "Products are dynamic, and we want to showcase that."
Clippitie.com was founded to provide consumers with a convenient and entertaining way to learn more about their favorite consumer electronics. The site contains a number of product videos, or trailers, created by companies to educate consumers.