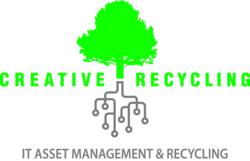 Ashburn, VA (PRWEB) May 02, 2013
Creative Recycling Systems(CRS), a leader in IT Asset Management and Electronics Recycling is participating in a county-sponsored electronics recycling event in Ashburn, VA with Loudoun County.
On Saturday, May 4, from 9a-3p CRS will be at the Telos Corporation parking lot, 19886 Ashburn Road in Ashburn collecting electronic material. Residents and businesses can bring in most electronic equipment including, but not limited to: Personal Computers, Laptops, Cell Phones, Hard Drives, Printers and Telecom equipment for free. All Televisions, including CRTs and Flat Panels, can be recycled for a $12 fee (per TV), and a $3 fee (per item) for monitors. All other products can be recycled for no charge. Simply bring electronics to the Telos Corporation parking lot and a CRS employee will remove the items from each vehicle and properly sort it on-site. Items that will not be accepted include household appliances such as refrigerators, freezers, dehumidifiers, air conditioners, stoves, washers, and dryers, as well as printer/toner cartridges, household batteries, light bulbs, fluorescent lights, thermostats, or fire alarms.
As technology continually evolves, so will consumers' digital lifestyles. When upgrading electronics, consumers need a way to conveniently and responsibly recycle old products. This collection event provides Loudoun County's 333,000+ residents with the opportunity to join the movement for a more sustainable planet. CRS' e-Stewards® certification serves the goals of Loudoun County by assuring residents that none of the collected material will be dumped in a landfill or exported to a foreign nation.
For a complete list of materials that can be recycled, please visit Acceptable / Unacceptable Items & Fees. There is a limit of 15 items per vehicle. All items that could contain sensitive data (hard drives, etc) will be properly sanitized. All material collected by CRS is either reused, recovered or fully recycled.
For more information, contact:
Tony Hayes
Recycling Specialist
CRS Holdings of America
Creative Recycling Systems LLC
Tiffini Schwarzkopf
Director, Marketing
About Loudoun County:
The Loudoun County Department of General Services, Waste Management Division, is responsible for operating the county's Solid Waste Management Facility (the Landfill); managing public recycling drop-off centers and hazardous waste collection services; supporting recycling opportunities for electronic, automotive waste, and other materials; ensuring compliance with local solid waste management ordinances; and responding to illegal dumping and unsafe transportation of waste materials. For more information visit loudoun.gov/oswm
About Creative Recycling Systems:
Creative Recycling Systems (CRS) is an IT Asset Management and Recycling company that provides state-of-the-art lifecycle management solutions for surplus, obsolete and end-of-life electronic products. It yields the highest value for its customers while producing the smallest environmental footprint available in the world. Recognized as a worldwide leader in the electronics recycling industry, CRS' 19 years of success has been built on environmental stewardship, developing and utilizing state-of-the-art processing technology, managing assets, data security and commitment to customer service. CRS has Nationwide capabilities, has also been featured as a National Geographic Creative company, and holds certification credentials for: e-Stewards®, ISO14001, R2/RIOSand CHWMEG. For more information visit http://crserecycling.com, call (855) 542-9253 or send an email to sales(at)CRSeRecycling(dot)com and follow on facebook.com/CreativeRecyclingSystems
###