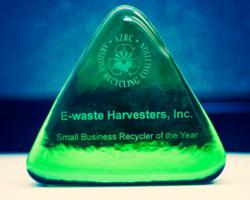 Phoenix, Arizona (PRWEB) December 13, 2012
Arizona based electronic recycling company, E-Waste Harvesters, is making a big impact here in the valley of the sun. Since opening their doors in July 2007 E-Waste Harvesters has been committed to recycling and reducing landfill waste based on their approach developed on the principles of economic and environmental sustainability. Their ongoing efforts to make Arizona a better place has not gone unnoticed; E-Waste Harvesters was recently recognized by the Arizona Recycling Coalition (AZRC) and awarded the 2012 Small Business Recycler of the Year.
Each year the non-profit organization, Arizona Recycling Coalition (AZRC), seeks out local companies and organizations for their excellence in recycling in the following categories: Outstanding Small and Large Business, Outstanding Educational Institutions, Outstanding Municipality, Outstanding Non-Profit and Outstanding Government Legislator. Awarding this year's Small Business Recycler of the year award to E-Waste Harvesters for their commitment to reduce, reuse, and recycle.
###
About E-Waste Harvesters:
E-Waste Harvesters is an industry leader in the field of asset management, electronic recycling, disposal, and parts harvesting. The Phoenix based company has adopted a zero landfill policy and is committed to the refinement of our recycling and environmental process, in hopes to further reduce the impact of e-waste on the environment. E-Waste Harvesters monitors waste streams collected and is constantly searching for new recycling options. To learn more about E-Waste Harvesters please visit:
http://www.e-wasteharvesters.com .