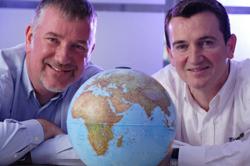 The Queen's Award is a significant achievement for our company and it's something which our whole team has played a part in
Uckfield, East Sussex (PRWEB UK) 22 April 2012
Scientifica, which develops and manufactures high quality equipment for electrophysiology researchers, is delighted to announce that it has won a Queen's Award for Enterprise (International Trade 2012). This prestigious business award is given on the advice of the British Prime Minister, who is assisted by an advisory committee including representatives of government, industry and commerce.
The Queen's Award for Enterprise recognises the contribution that export has made to Scientifica's growth over recent years. Today, 70% of the company's business is achieved through overseas sales.
The US is its biggest market, followed by France, Germany and the rest of Europe, but the company has also opened up new markets in the Asia Pacific region and is now successfully trading in China, Japan, South Korea, Singapore and Australasia.
"This Award is great news for us and we hope it will contribute to even more customers overseas choosing to buy our products," says Mark Johnson, Joint Managing Director of Scientifica.
Scientifica products are used by researchers around the world, predominantly in universities and pharmaceutical companies, the majority of whom are involved in research into neurodegenerative diseases.
Since it was launched in 1997, Scientifica has grown from a small business to a company employing 44 people across its two sites – its head office in Uckfield, East Sussex, and a production facility in Maidenhead, Berkshire. Turnover has increased by more than 25% year-on-year for the past six years.
"Our success is due to a number of factors," says David Rogerson, Joint Managing Director of Scientifica. "We focus solely on providing products for the electrophysiology market, which gives our customers reassurance that we understand their requirements and have their best interests in mind. In addition, our engineering quality is universally regarded as excellent and the range we offer is comprehensive."
He continues: "We manufacture and sell all the component parts of an experimental rig, which means customers don't have to go from one supplier to another to get all the different pieces of equipment they need. In addition, we offer flexibility - modifying and adapting equipment to suit our customers' needs."
Adds Mark: "We've found that building relationships with our customers is key. Researchers move around from university to university and from country to country and they consistently remain loyal to us. The majority of our sales people are scientists themselves, so they understand our clients' requirements. In addition, the person who sells the products is the person who goes to install them."
The close rapport with clients is essential in Scientifica's ongoing product development as the company is constantly talking to researchers and understanding the challenges they face and their future plans.
Scientifica has recently made some significant developments in multiphoton imaging.
"By combining our life science and optical engineering experience, we have developed an accessible, revolutionary technique to facilitate important neuroscience and wider bioscience discoveries," says David.
The Scientifica team will be visiting London in due course to receive its Award from HM The Queen herself, following which, there will be a special presentation ceremony later in the year.
"The Queen's Award is a significant achievement for our company and it's something which our whole team has played a part in," says David. "We are very proud to be recognised for what we've achieved and what's really significant is the continued success and growth in export sales that we have achieved since we submitted our figures to the Awards committee."
Notes to Editors:

Formed in 1997, Scientifica specialises in supplying innovative, high quality products that offer many benefits to researchers using electrophysiology.
Everything which Scientifica produces is developed and manufactured in the UK.
The company was established in 1997 by joint managing directors David Rogerson and Mark Johnson, who previously worked together at technical optics business, Spindler & Hoyer. David's past experience includes Vickers Instruments, Burleigh Instruments and GEC Hirst Research Centre, while Mark rose through the ranks to eventually lead Spindler & Hoyer in the UK.
Scientifica has developed an impressive product range including micromanipulators, complete rigs, mounting equipment and accessories, which are used in laboratories throughout the world, including many top universities, research centres and pharmaceutical companies.
Export is central to Scientifica's success, accounting for 70% of the company's sales.
The Queen's Awards are the UK's most prestigious awards for success, recognising companies which have made an outstanding contribution to the British economy.