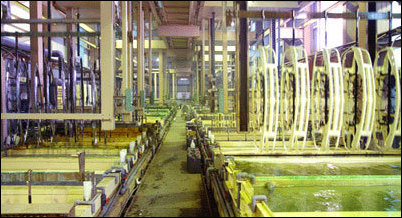 We believe CYH is an ideal partner for companies who need plating on plastic.
(PRWEB) January 3, 2007
CYH is once again meeting customer's needs by providing environmentally friendly plastic plating to customers worldwide. Current global trends mean industrial manufacturers must be attentive to customers' environmental concerns. The plastic plating industry is striving to reduce or eliminate certain elements and compounds from production. "Green" products are developing rapidly as a response to environmental legislation in developed countries, such as RoHS in the UK. This drive to adopt "green" products is especially strong in the end user market.
Founded in 1969, Cherng Yi Hsing Plastic Plating Factory Co., Ltd (CYH) is one of the largest plastic plating factories in Taiwan. CYH's goal is to provide a complete turnkey operation, providing electroplating molding, injection and a sub-contact plating service to compliment finished products. Nearly 40 years' expertise in and dedication to the plating on plastic (POP) industry has enabled CYH to offer the best quality and competitive prices, all designed to meet customers' needs, fulfill expectations and meet regulatory standards.
"As long as you provide plastic moldings or plating samples, CYH can produce high quality craftsmanship and deliver finished products to you on time," CYH general manager Yen Ching, Wang said. "For CYH, the search for excellence both industrially and in terms of quality is a major daily concern."
In order to pursue superior productivity, CYH first introduced a multi-layer nickel process and upgraded their automatic electroplating equipment in 1986. Throughout the following two decades, the company has endeavored to expand their expertise in plating onto plastic techniques to include processed plastic injection, molding design, ABS plastic plating, ABS + PC plastic plating, and flame-retardant ABS plastic plating. In addition, CYH extended their unique services to various industries including automotive parts and bathroom equipment.
Diversification has progressively grown into an important part of CYH's business. The company expanded into a second and a third chrome plating facilities to accommodate high-volume production. Their newest facility offers the latest plating technology, including four-layer nickel plating, and meets the latest specifications for manufacturing automotive parts.
CYH has set up a standard processing program, meeting all specifications of the ISO 9001:2000 norm. Furthermore, the company has passed various quality inspections, such as a plating thickness measurement test, a CASS resistance test, a thermal cycle test and a microscope and pore count check. CYH takes such testing seriously and has adopted an approach of total quality assurance. By promising quality, the company can satisfy even the most demanding clients.
"Thanks to the automatic electroplating equipment and three POP electroplating lines, CYH can offer a full range of electroplating," Wang said. "We believe CYH is an ideal partner for companies who need plating on plastic."
With these three POP electroplating lines, CYH is capable of plating large formed components up to 320 cm long. These lines also enable CYH to offer a high volume production of smaller injection molded components. The result? CYH can meet the widest range of customer requirements and can do so to high environmental standards.
CYH's facilities can offer the following range of finishes, listed together with original equipment manufacturer (OEM) applications: automotive parts, automotive decorative boards, bumpers, lampshades, radiator front decorative boards, rear view mirrors, rims, motorcycle parts, and bathroom equipment and accessories.
History
2005 - third POP electroplating line added
1994 - second POP electroplating line added
1986 - multi-layer nickel process introduced
automatic electroplating equipment in service
1979 - plastic injection and molding equipment added
1969 - first POP electroplating line started
Contact:
Cherng Yi Hsing Plastic Plating Factory Co., Ltd (CYH)
Yen Ching, Wang
886-6-3561278
Websites: http://www.plastic-plating.com and http://www.allproducts.com/plastic/cyh/supplier.html
###