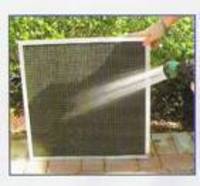 We feel for people during these hard times and want to help in our small way
Fort Garland, CO (PRWEB) June 30, 2009
HealthyHomeFilterCo.com will be selling their most popular electrostatic air filters for 50% off during the entire month of July, 2009. These same filters are normally available only through HVAC professionals and retail for $79.99 - $99.99. HealthyHomeFilterCo.com will offer these filters for just $39.99 during their July sale.
These brand new 3-stage electrostatic filters feature 95% dust arrestance and a low 0.12 WG air resistance rating. They are constructed from non-rusting aluminum and come with lifetime factory warranties. They are designed as drop-in replacements for furnace and central heat and air filters. The $39.99 filters are available in 41 standard sizes and custom sizes are just $5.00 more.
"We feel for people during these hard times and want to help in our small way," says HealthyHomeFilterCo.com owner Jennifer Abbes. "Why spend $100.00 or more each year on quality filters just to throw them away every month or two. These filters are washable and reusable and now we have made them affordable," says Abbes.
Electrostatic filters develop a natural static charge as air passes through them. Dust and allergens are trapped in the polypropylene filaments and are then released when the filter is vacuumed or hosed off. These filters are not available in stores and normally can only be ordered through heat and air conditioning service companies which typically charge $79.99 to $99.99.
For more information on the July filter sale, visit http://www.healthyhomefilterco.com.
###