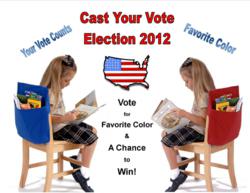 the red pops and adds brightness to those royal blue chairs we all have! ~Jennifer Kadar, AZ
Naples, FL (PRWEB) October 12, 2012
Seat Sack, Inc is placing a twist in the 2012 Presidential Election by giving teachers, parents and students the opportunity to vote for change. The leading candidate has held its position for over 12 years, and this year's election may be altering the lead between candidates. The Original Seat Sack Company is giving voters the chance to win big by casting votes for their favorite chair pocket organizer color.
The battle between the red and blue was fiercely set in motion when the Corporation introduced new colors to the lineup. As the company began announcing new colors for the patented Seat Sack, they found that blue maintained its popularity, but the new color additions have quickly become popular among the voters and may surpass the current incumbent.
As Election Day draws near, candidates have been offered the opportunity to cast their votes through early voting on the company's website and Facebook page for a chance to win a Seat-n-Desk Storage Pack and other prizes. This pack of organizers is perfect for any classroom that needs assistance in organizing. The pack includes 10 Single Pocket Seat Sack chair pocket organizers and 10 magnetic or clip-n-stick Hand-e-Sacks that hang from the side of a desk or table to instantly organize and keep school supplies close at hand.
The company is encouraging voters to be proactive in letting their choice count by simply placing their vote on The Original Seat Sack Company website or "Like" them on Facebook to find out how to place your vote. Visitors who place a vote also receive a special coupon to purchase organizers and educational products on the company website.
Voters are asked to choose between original blue, apple red, crisp green, tuxedo black, sunny yellow, royally purple or totally orange. Debates will be heard from now until Tuesday, November 6, 2012 through comments placed on the company Facebook page and through information posted in the company's e-newsletter. Polling has shown that this election is very close and the voice of the people could easily sway the outcome. Customers have already been fiercely deliberating for their candidates. Laura Kubik, a dedicated Seat Sack Facebook fan and customer voiced her opinion late Wednesday night as she announced her vote for Sunny Yellow, "It is so cheerful and bright, and brings a smile to my face. It would surely be a cheerful addition to any classroom!"
As the company provides complete coverage of the election through political ads and voter debates, the company will entice voters with giveaways of educational games, toys, learning materials and organizers. To place a vote, the company invites visitors to stop by their website, place their vote and shop around for products that engage learners and assist educators.
The Original Seat Sack Company has been working with parents and teachers to provide organizers for the home, school and office since 1999. With the success of the Seat Sack chair pocket and other classroom organizers, the corporation has expanded its product line to feature a full line of high quality educational products and organizers through O2Teach. The passion of both companies is to provide, educational tools and organizers that assist educators in engaging learners and meeting the needs of the individual learner. Visit their website today at http://www.seatsack.com or shop their new digital catalog, http://www.pageturnpro.com/O2Teach/40977-The-Original-Seat-Sack-Co-Back-to-School-2012/index.html#1 and don't forget to join them on Facebook.