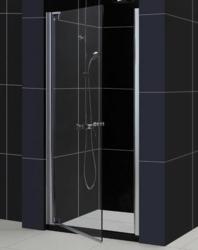 This line of doors is made out of 3/8" thick, clear tempered glass and uses wall profiles that allow adjustments up to 2"
Aiken, SC (PRWEB) November 28, 2012
The uniqueness of Elegance shower doors consists of their installation flexibility. This line of doors is made out of 3/8" thick, clear tempered glass and uses wall profiles that allow adjustments up to 2". This way, not only the width can be adjusted, but out-of-plumb side walls don't create too much obstacle with the door installation; there is an ample room for adjusting the angle of the pivoting door as well as the angle of the striking plate on the opposite side. Another attractive feature of this collection is that the doors are reversible for a left or right door opening. Although Elegance doors use anodized aluminum wall profiles, the swinging door itself is a clean sheet of glass pivoting on two small not-well-visible brackets. The glass has been factory treated with DreamLine's exclusive ClearGlass™ for superior protection and easy maintenance.
The smallest Elegance door is a 25 ¼" wide SHDR-4125728-01 chrome hardware (SHDR-4125728-04 brushed nickel hardware) which fits openings from 25 ¼" to 27 ¼" maximum. The pivoting door is 20 ¾" wide.
The next door in line is SHDR-4127728-01 chrome (SHDR-4127728-04 brushed nickel) which fits openings from 27" to 29" wide. The pivoting door is 22 ½" wide.
The largest Elegance model that uses a swinging door only without an additional stationary glass panel is SHDR-4135728-01 chrome (SHDR-4135728-04 brushed nickel) which fits openings from 35 ¾" to 37 ¾". The pivoting door is 31 ¼".
Starting with the model SHDR-4137728-01 chrome (SHDR-4137728-04 brushed nickel) that fits openings 37 ¼" – 39 ¼" Elegance calls for a 12" stationary panel that uses two corner glass shelves in order to support and stabilize it.
The doors without the stationary panel can be installed in any type of door opening i.e. 4" wide walls since no side support is demanded. In addition, the majority of weight of the glass door rests on the bottom hinge thus it doesn't put much stress at the mounting side strip, this way the strip can be attached to any spot on the wall with or without a stud behind it.
Dreamline recommends, in order to insure long lasting life of the glass shower doors, to wipe them off after each use with a soft cloth. Rinse and wipe of the glass using either soft cloth or squeegee to prevent soap buildup. Never use abrasive cleaners and cleaning products that contain scoring agent because this may scratch the surface. Never use bristle brushes or abrasive sponges.
To assure a long lasting finish the owner needs to wipe off the metal parts after each use with a soft cloth. Never use abrasive cleaners or cleaning products containing ammonia, bleach or acid. If accidentally used, the surface needs to be rinsed as soon as possible to prevent finish corrosion. After cleaning the shiny finishes, they need to be rinsed thoroughly and wiped dry with soft cloth. When applying stainless steel cleaner or polish never use abrasive sponge or cloth, steel wool or wired brushes.
All Dreamline Elegance shower doors are available at Warehouse USA – http://warehouse-usa.com; they are on sale with free shipping throughout 48 contiguous states. For more technical information or if in doubt please don't hesitate to call 888-693-8066.