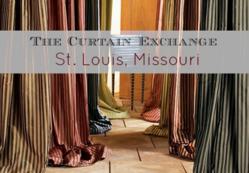 This will be a great way to get expert bedding advice and a discount off luxury custom draperies!
St Louis, MO (PRWEB) April 24, 2013
On May 1st from 10am to 5pm, elegant drapery shop in St. Louis known as The Curtain Exchange will be hosting a Peacock Alley bedding event, where expert Brad Cleveland will answer guests' bedding questions and reveal the new linens from Peacock Alley. Shoppers will also receive a coupon for 15% off Peacock Alley bedding (not to be combined with any other offer) and a $100 gift certificate to be used on all other products sold at The Curtain Exchange in St. Louis (only 1 coupon and gift certificate per household).
"We're very excited about this event," says The Curtain Exchange of St Louis owner Ellen Ross. "This will be a great way to get expert bedding advice and a discount off luxury custom draperies!"
Peacock Alley creates luxury bed and bath lines that appeal to stylish consumers. The luxury designer bedding outfitter was founded in 1973 by Mary Ella Gabler and features a classic but indulgent style in each piece. Peacock Alley caters to a sophisticated audience of shoppers, whom they assist in creating a personal, individualized style with the designer bedding, pillows, throws, and bath linens that they carry.
The Curtain Exchange offers custom luxury curtains and designer drapery and window treatments in St. Louis, Missouri. In addition to a constantly updated line of fabrics that may be selected from to create custom draperies, The Curtain Exchange also carries a distinctive selection of ready-to-buy curtain styles and offers drapery hardware and installation. The store's in-house consultants are happy to work with guests in-store or at home, and customers are encouraged to take advantage of The Curtain Exchange's 48-hour take home approval process. All of The Curtain Exchange's draperies are made in the USA. For more information or to schedule an in-home consultation, please visit thecurtainexchange.com.