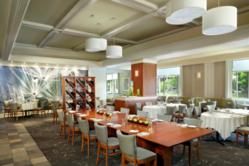 Halifax, Nova Scotia (PRWEB) September 26, 2012
Enjoy the best of Atlantic cuisine as elements on hollis Halifax restaurant celebrates their one year anniversary. In partnership with Nova Scotia wine, Luckett's Vineyard, the Halifax restaurant will host a delicious dinner featuring the best of local cuisine.
"This is a unique experience that showcases delicious local dishes paired with Nova Scotia wines, all grown from the same Annapolis Valley soil," states Maritime Chef Bryan Corkery. "We're excited to partner with Luckett Vineyards and to welcome guests to our harvest celebration dinner."
The unique dining in Halifax experience provides a rare opportunity to savour a true "terroir" dinner, with the wine grapes and dinner produce having been grown in the same soil. As part of the Nova Scotia Fall Wine Festival, elements on hollis will open their doors on Saturday October 6th for a spectacular multi-course menu with wine pairings, hosted by Maritime Chef Bryan Corkery and celebrity greengrocer/vintner Pete Luckett.
Farm to fork, grape to glass--this dinner exemplifies the elements on hollis philosophy of eat local. Each course will feature the freshest of Annapolis Valley ingredients paired with locally-recognized Nova Scotia wine. Enjoy this authentic Halifax dining experience at elements on hollis and savour the true flavours of Nova Scotia cuisine.
For more information on elements on hollis and the Harvest Celebration Dinner, visit them online or like them on Facebook.
About elements on hollis:
Located in the Westin Nova Scotian, bordering the edge of the historic South end of Halifax, elements on hollis is committed to supporting the "eat local" movement offering a 50-mile sustainable menu featuring local food with global inspiration. The 104-seat Halifax local and sustainable restaurant has partnered with its neighbour the Halifax Seaport Farmers' Market and over 35 other local farmers and producers to offer menus rich in fresh, local seasonal ingredients. The 2012 Wine Spectator Award of Excellence winner offers over 116 selections featuring wines from 8 Nova Scotia wineries. A private dining room is available for up to 16 guests and a large gathering table for 20 is the focal point of the vibrant modern décor. Open 6 days a week for breakfast, lunch and dinner and Sunday's for breakfast & brunch. Reservations can be made online.