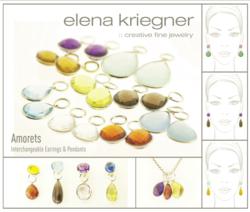 I was inspired by one of my long-term private clients, a dear friend who wanted amethyst drop earrings made.
New York, NY (PRWEB) April 26, 2012
Cool and warm colored cabochon and faceted gems are interchangeable for year-round wear. Whether one is looking to create a necklace representing each of their loving children, match earrings to a trendy, patterned dress, or go from day to date with a lover, Amorets provide a fun way to create dozens of looks to collect and build upon. Amorets are the perfect gift to give, receive and collect for all occasions. Own it!
This spring, Amoret gemstone separates include: faceted and cabochon blue topaz, citrine, lime citrine, amethyst, turquoise, pink topaz, agate, rose quartz and blue chalcedony. Next fall, faceted and cabochon madeira citrine, prasiolite, onyx, cornelian, gold topaz, rose de france and smoky quartz will debut. Stores with the collection will have an Amoret earring flip book, which will allow customers to easily mix and match color combinations, and incorporate new Amorets to add-on for upcoming seasons and looks.
The woman of today is on the go, and wants accessories that reflect her fast-paced and loving lifestyle. Versatility makes the collection perfect for long-term wear and collectability, with pieces that make a statement, illuminating and flattering every woman's frame. Varied shapes and sizes combine for color blocking, and the layering of Amoret pendants is exceptionally beautiful. Says Elena regarding her inspiration for the collection, "I was inspired by one of my long-term private clients, a dear friend who wanted amethyst drop earrings made. I began creating the pair of earrings for her and together we came up with the name Amorets for the earrings. It was a fun way to celebrate this new token pair of earrings she loves and purchased for herself."
To purchase Amorets, tokens of love, visit: Massimo Bizzocchi 433 West 14th Street Manhattan, NY 10014 store(at)massbizz(dot)com or contact your nearest Elena Kriegner retailer listed on http://www.elenakriegner.com. For press inquiries, contact Olga Gonzalez at olga(at)elenakriegner(dot)com.
About Elena Kriegner: Internationally recognized for her contemporary and artful jewelry designs, Elena Kriegner describes her creations as 'creativity materialized.' Austrian-born and trained at the prestigious European Jewelry Design School, she knew she wanted to become a jewelry maker at the age of six, creating her first pieces by ten and she had her Masters degree by 19. Elena specialized in creating one-of-a-kind signature pieces for private clientele in Austria for 14 years before she moved to New York City in 2006. Function, contemporary beauty, and versatility are a hallmark of her work; most pieces are interchangeable rings, earrings and pendants.