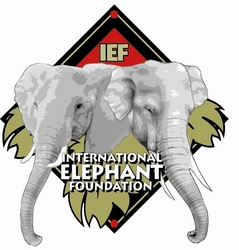 Essential elephant conservation work will continue thanks to the elephants here in North America that inspire support for the International Elephant Foundation.
Silver Spring, Md. (Vocus) January 7, 2009
The International Elephant Foundation (IEF) and the Association of Zoos and Aquariums (AZA) today announced their support for 12 elephant conservation projects for 2009.
IEF-supported projects prevent human-elephant conflict, combat poaching, protect habitat, prevent disease, advance research and educate people. IEF grants for 2009 total $165,000, adding to the $1.4 million total since its founding in 1998.
"The economy may be down, but elephants still need our help," said IEF President Charlie Gray. "Essential elephant conservation work will continue thanks to the elephants here in North America that inspire support for the International Elephant Foundation."
IEF supports and operates elephant conservation and education programs both in managed facilities and in the wild, with emphasis on management, protection and scientific research. IEF is a non-profit organization established in 1998 by a group of zoos and other elephant exhibitors to support elephant conservation around the world and receives a substantial portion of its funding from AZA-accredited zoos.
"Elephants in AZA-accredited zoos are wildlife ambassadors who educate the public and raise money to support vital IEF conservation efforts," said AZA President and CEO Jim Maddy. "AZA is proud to support the efforts of the International Elephant Foundation."
"IEF is helping the Uganda Conservation Foundation to invest in proactive and catalyst projects to strengthen elephant management across Queen Elizabeth National Park", explained Michael Keiwin, Founder, Trustee and Director of the Uganda Conservation Foundation. "Without IEF, UCF would be unable to support the Uganda Wildlife Authority in recovering critical elephant populations from poaching, communities from crop raiding and habitats from illegal activity."
"The International Elephant Foundation partners with the Northern Rangelands Trust to support community-led conservation in 15 community conservancies covering a vast 6000 square kilometers in northern Kenya," said Ian Craig, Executive Director for the Northern Rangelands Trust, "In the last decade, the International Elephant Foundation has provided more than $265,000 for African elephant conservation activities in Kenya."
The following elephant conservation projects are recipients of 2009 IEF grants:
ASIAN ELEPHANT PROJECTS
1. Uda Walawe National Park, Sri Lanka
The purpose of the project is to study Asian elephant social behavior and population dynamics in the Uda Walawe National Park. Elephants in the park are threatened by development outside of the park and data will ultimately help in the making of wildlife management decisions that reduce human-elephant conflict and provide alternate development strategies to help sustain the elephant population in Sri Lanka.
2. Cambodian Elephant Conservation Group
Established by the Fauna & Flora International (FFI), the Group aims to ensure the survival of the Asian elephant in Cambodia through partnerships with governmental and non-government wildlife authorities. Funds will go towards training and capacity building to ensure elephant conservation stakeholders act strategically and proactively to stabilize and/or increase wild populations.
3. Addressing Human Elephant Conflict in Tamil Nadu, India
Human Elephant Conflict (HEC) is a large and growing threat to elephants as their natural habitat continues to reduce in size. This project will address a viable management strategy for elephant reserves with special emphasis on corridor management in order to prevent HEC.
4. Disease Investigation in Assam, India
Disease is a natural threat to both wild and managed elephants, and this project aims to study the prevalence of disease amongst wild populations in the Assam region to evolve strategies for their protection from diseases. The project hopes to produce base line data on infectious and non-infectious diseases to prevent future cases amongst wild elephant populations.
5. Gajah, Journal of the Asian Elephant Specialist Group (AsESG)
Gajah, which means elephant in Malay, is an International Union for Conservation of Nature (IUCN) supported journal dedicated to Asian elephant conservation. AsESG addresses issues specific to Asian elephants and is encouraging younger, less-experienced members to publish and participate in journal production, and share knowledge in elephant conservation.
6. Sumatra Elephant Conservation Response Units, Indonesia
This ongoing project by the Conservation Response Unit (CRU) in Sumatra will investigate human-elephant interactions in order to improve local perception by utilizing once neglected captive elephants and their mahouts (handlers) for direct field based conservation interventions for wild elephants. The main objectives are: 1) mitigating human-elephant conflict; 2) reducing wildlife crime through forest patrol and monitoring; 3) raising awareness among locals of the importance of conserving elephants and their habitat; 4) establishing community-based ecotourism to ensure long-term CRU financial sustainability.
AFRICAN ELEPHANT PROJECTS
7. Capacity building by the Northern Rangelands Trust (NRT), Kenya
The role of the NRT is to develop the capacity and self-sufficiency of its constituent community conservancies in biodiversity conservation, natural resource management and natural resources based enterprises. These efforts aim to help both elephants and humans in the Northern Kenya region.
8. Community-Based Efforts by the Kalama Community Wildlife Conservancy, Kenya
Community-based conservation in Northern Kenya monitoring helps both elephants and people, and surveillance of elephants in Northern Kenya The objective of the project is to enhance management of ecosystem, wildlife and vegetation monitoring and community awareness.
9. The Waterways and Dura Recovery Project, Western Uganda
Poaching has devastated the region's elephant population, and this project aims to create better monitoring and enforcement in the area by stationing rangers in key locations to prevent further loss. Additionally, the project aims to encourage elephants to use the protected corridor to repopulate the region.
10. Save The Elephants, Samburu National Park, Kenya
This small charity operates in the remote wild bush of northern Kenya where scientists have unparalleled access and insight into elephant behavior. Their project will include elephant monitoring and tracking and education for local children on conservation issues.
RESEARH & EDUCATION EFFORTS
11. 2009 Elephant Research Symposium
Support will go towards the 2009 International Elephant Conservation and Research Symposium where scientists and researchers will have the opportunity to learn from others and share information in order to further conservation efforts of elephants in the wild.
12. Elephant Edotheliotropic Herpesvirus (EEHV) Research
This ongoing epidemiologic study aims to identify the causes of EEHV in an effort to prevent future EEHV fatalities. The study aims to find the status of EEHV in individual elephants, their potential for further transmission, and identify predisposing factors that make specific elephants more susceptible to the disease. EEHV effects both wild and managed elephant populations.
As a non-profit organization dedicated to elephant welfare, IEF solicits donations to fund worthy conservation and research projects worldwide. To learn more about IEF or to contribute to elephant conservation efforts, visit IEF's website at http://www.elephantconservation.org. With minimal administrative costs, IEF is able to dedicate more than 90 percent of its budget directly toward elephant conservation programs worldwide.
Founded in 1924, the Association of Zoos and Aquariums is a nonprofit organization dedicated to the advancement of zoos and aquariums in the areas of conservation, education, science, and recreation. Look for the AZA logo whenever you visit a zoo or aquarium as your assurance that you are supporting a facility dedicated to providing excellent care for animals, a great experience for you, and a better future for all living things. The AZA is a leader in global wildlife conservation, and your link to helping animals in their native habitats. To learn more, visit http://www.aza.org.
CONTACT:
Debbie Olson, IEF, (817) 237.9034
Steve Feldman, AZA, (301) 562.0777 x252
Jackie Marks, AZA, (301) 562.0777 x236
###