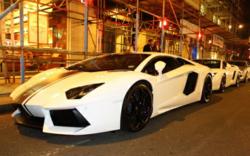 "We are so proud of ELEQT and its 160,000 members worldwide. This is testament to the fact that Quintessentially and it's partnerships are truly global." Ben Elliott, co-founder of Quintessentially
London, UK (PRWEB) February 28, 2012
Last Thursday (23rd February) saw the launch of the new and exclusive Luxury Social Networking site for high net worth individuals, Eleqt at London's exclusive Rose Club. What were guests treated to?
There were VIPs, business luminaries and an eclectic mix of movers and shakers out in force to celebrate the growth of Quintessentially and its newest venture Eleqt.
Guests were greeted with the height of luxury from the start, with Lamborghini's parked outside The Rose Club and flowing champagne and CÎROC® Vodka cocktails. With performances from the venue's resident DJ, Drummers, Saxophonists and erotic Ballet dancers, the evening was not short of entertainment, and guests were seen partying into the early hours. Guests were also offered the exclusive chance to purchase a £3,000 premium membership package, with £500 of the proceeds being donated to Quintessentially's philanthropic arm, the Quintessentially Foundation.
Everyone would have thought that London Fashion Week would have exhausted even the most seasoned of party goers but not PPQ designers Amy Molyneux and Percy Parker who were seen getting in the party spirit, celebrating the success of their latest collection. Socialite and fashion presenter Noelle Reno was also overheard chatting to guests about the excitement over that terrestrial debut on Channel Five over London Fashion Week. Ben Elliot, Co-Founder of Quintessentially also attended the evening, showing support for the luxury lifestyle company's most recent and exciting business venture.
So what's next for Eleqt? Well there is an array of upcoming events from boat shows, fashion shows and sports events. Not only this but the website will keep everyone up to date on the newest trends and the newest products in the luxury market.
For all press enquiries regarding Eleqt, please contact T: +44 (0)845 388 4329 / E: contact(at)eleqt(dot)com
About the Company
Eleqt is the world's most exclusive international luxury lifestyle social network. With the combined heritage of Quintessentially's Qube and Elysiants, Eleqt will open a window into a new realm of luxury networking offering connected and discerning HNW individuals the opportunity to network with peers and access the best possible luxury lifestyle benefits. By encouraging individuality, creating introductions to top luxury brands and offering access to the world's hottest events and locations, Eleqt will be groundbreaking in its approach to social networking.
###