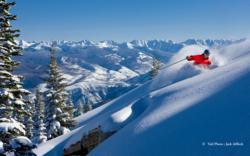 With 5000 years of skiing behind them the people of Mongolia have known what special places the mountains are but now struggle to retain their way of life
Vail, Colorado (PRWEB) August 09, 2012
Elevate LLC in Colorado announces the Elevate: Creating and Sustaining Special Places Symposium, which will be considering the implications of 50,000, 5000 or 50 years - Sustainable Design for the Long Term.
Elevate Symposium will bring together multi disciplinary special place makers, caretakers and leaders from the US and Australia on the 25th to 27th of September to consider sustainable development and design, architecture and true green construction as well as environmental management and economic solutions.
Presentations will include the 50,000 years of connection to country of Aboriginal Australians and their insights into thinking for the long term followed by an in depth look at 5000 years of Mongolian connection to their special places.
Other highlights include a Vail Mayoral panel highlighting the experiences of leaders in a "new" place and the need for vision and tenacity from the beginning in order to create or recreate special places.
Former Vail Mayor Dick Cleveland, and key note speaker at the first Creating and Sustaining Special Places conference in Queensland Australia in 2011, explains his support for Elevate. "How better to acknowledge the 50th Anniversary of the founding of Vail than to conduct a symposium on the implications of sustainable development and environmental solutions that consider the legacy we are leaving for the next millennium?"
He goes onto say that, "I had the pleasure of experiencing first hand the cultural connections of the Aboriginal Australian residents of the Fraser Coast spanning 50,000 years and see their message as an example of truly sustainable communities that have survived even in the light of sometimes horrendous disruption. Their message is one that emphasizes an integrated approach to sustainable development in the fullest sense of the term"
The Mongolian experience will also feature at Elevate. "Talk about the original ecotourism." Constance Woodberry of Elevate explains. "With 5000 years of skiing behind them the people of Mongolia have known what special places the mountains are but now struggle to retain their way of life as they expand their economic base, not an easy task in the 21st Century."
Elevate highlights the need to consider all aspects of Special Places from ancient connection and care for the environment to thoughtful and quality sustainable design as well as the implications of economic sustainability in special places too often reliant on the tourism dollar.
Details on the Elevate. Vail 2012, Creating and Sustaining Special Places Symposium, taking place on the 25th to the 27th of September 2012 in Vail Colorado, are available from Constance Woodberry. This is a unique opportunity and places are limited so make your enquiry now.
Contact: Constance Woodberry by calling 970 471 6455 or at constance(at)elevatesymposium(dot)com for interviews or further information. More information is available on the Elevate website at http://www.elevatesymposium.com