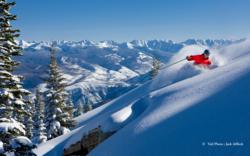 We feel a real affinity with the Vail founders, which is one of the reasons we chose to have this years 2nd Annual Elevate event in Vail
Vail, Colorado (PRWEB) August 23, 2012
Elevate LLC in Colorado is launching a Special Place Renaissance in the Rocky Mountains this fall. As a timely reminder to all those people who have recently returned from vacation, special places don't just happen. It takes special placemakers and caretakers to ensure that special places are there next year and for the next 100 years.
The Special Place Renaissance event- called Elevate/Vail 2012, Creating and Sustaining Special Places will take place in Vail, Colorado, which is celebrating its own unique 50th Anniversary. Vail was opened in 1962 after a group of WWII 10th Mountain Division Veterans decided that creating a snow town in the Rockies would be a very good idea, and so they did it.
Like the intrepid Vail Founders, the creators of Elevate (originally from Australia) decided to get on with doing something that needed to be done - taking a multi disciplinary approach to understanding special places before that specialness is lost.
The Elevate partners have brought together special placemakers from Australia, the US and beyond to discuss the complex and sensitive nature of special place sustainability. Working across the areas of cultural connectivity, economic sustainability and how the built and natural environment intersect these, special place leaders have come together for what may well be the only such gathering in recent times.
As Connie Woodberry, Elevate Director and organizer explains, "We feel a real affinity with the Vail founders, which is one of the reasons we chose to have this years 2nd Annual Elevate event in Vail. As a business, which has worked with many small towns and special places, we are aware of the need to look past the specializations and often self serving sustainability organizations and take a different approach to sustaining special places. With respect to funding we are wearing the financial risk ourselves. But we realized that if we don't do this, then who will?" Mrs. Woodberry went on to say, "what has been gratifying is the in-kind, and indeed moral support from many local organizations such as Vail Resorts, the Town of Vail and The Antlers at Vail and the willingness and enthusiastic response we have had from the guest speakers.'
Rob Levine, General Manager of The Antlers at Vail and former Board Chair of the Colorado Chamber of Commerce, attended the first Creating Special Places Symposium in Australia last year and will host the guest speakers at The Antlers this year in Vail. " From my experience working with and in special places over a lifetime, I have not come across an event, which encapsulates the nature of special places in the way the Elevate event is able to do. By bringing together a multi disciplinary group of people, who all get that by understanding a special place as a whole, the people, the environment, the why, and even the how you design streets and manage activities, down to the way people are made to feel welcome requires looking at all aspects of a place, including how and why people are so attracted to that place in the first instance."
Mr. Levine continued, "Renaissance conjures up the idea of looking at the world as a whole and with people as an important element to that whole, but it also implies a new way of thinking about special places and our responsibilities for them. We are more than excited to be a part of this event again this year."
"It is often said of the Vail Founders that Vail is confirmation of the belief that anything is possible. The Elevate organizers also believe that it is possible for a business and a small group of highly thoughtful and committed people to make a real contribution to understanding creating and sustaining special places." Said Mrs. Woodberry. "Only equally intrepid and thoughtful people need apply."
Details on the Elevate. Vail 2012, Creating and Sustaining Special Places Symposium, taking place on the 25th to the 27th of September 2012 in Vail Colorado, are available from Constance Woodberry. Places are limited and early bookings receive a lodging discount.
Contact: Constance Woodberry by calling 970 471 6455 or at constance@elevatesymposium.com for interviews or further information. More information is available on the Elevate website at http://www.elevatesymposium.com