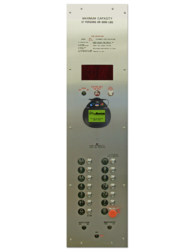 Why didn't someone think of this before?
Harwood Heights, IL (PRWEB) April 01, 2012
Since 1910 C.J. Anderson & Company has been a leader and pioneer in designing and manufacturing long lasting durable elevator components, thousands of which are still in use today. The goal that Charles Johansson Anderson, a tool and die maker, had when he started the company was to provide the most dependable elevator equipment to minimize breakdowns and help save building owners the costs associated with repair and replacement.
One hundred years later the company continues to innovate and is excited to announce the launch of its newest product, Payavator®, which is a turnkey interface that transforms your elevator into a revenue generating machine. No more high elevator maintenance bills, Payavator® helps offset the maintenance, repair and modernization costs typically associated with elevators.
The Payavator® system comes complete with credit card swipe/touch less terminal, elevator interface board and requires only a telephone line or Cat 5 internet connection. The building owner sets the price per trip and all transactions are processed and sent to the Payavator® online virtual terminal. Building owners receive a monthly check for the fees collected less 6.95% per transaction charge.
The complete Payavator® kit retails for $2950.00 and requires professional installation by your current elevator maintenance provider. It can also be added to most elevator systems. There are no subscription fees however you do need to use the Payavator® virtual credit card terminal for all credit card transactions.
For additional information please visit http://www.cjanderson.com/payavator.aspx, or http://www.cjanderson.biz today!