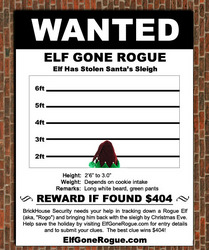 Our North Pole insider has informed us that a disgruntled elf made off with Santa's sleigh
New York, NY (Vocus) December 22, 2009
BrickHouse Security, a leading provider of safety and security products, is turning its attention to a timely holiday cause via ElfGoneRogue.com. The company has sponsored a contest to help track down a fictional "rogue elf."
According to BrickHouse Security, the back story is as follows:
"Our North Pole insider has informed us that a disgruntled elf made off with Santa's sleigh," said a company Spokesperson. "We shudder to think of the potential effect on the holiday. To help in its return, we have reached out to our extensive community to provide us with clues as to the elf's whereabouts. Why, that little..." added the Spokesperson; additional comments about the elf were not suitable for release.
BrickHouse Security, which serves consumers, most of the Fortune 500, and major law enforcement agencies, is offering a $404 reward for the missing sleigh's safe return. Concerned citizens can visit ElfGoneRogue.com to learn more about the situation and view clues in the search.
Known Facts
The North Pole has unilaterally refused to supply details on the sleigh's abduction, neither confirming nor denying the incident. However, an apparently spelling-challenged elf calling himself "Rogo" has been publishing taunting "Tweets" through his @elfgonerogue handle on Twitter.
Through its source, BrickHouse Security has ascertained the following facts:
The incident is not a cover up of Santa allegedly driving the sleigh into a tree. Further, Mrs. Claus has not been seen wielding a golf club.
All of the "eight tiny reindeer" have been accounted for; however, Blunder, a reindeer that has never made Santa's roster, is apparently missing.
The elf has twice been spotted buzzing moose herds but is widely believed to have left the Arctic Circle.
His actions are not tied to a protest of the recent and untrue rumors that Santa was considering outsourcing toy production.
Reward for Information
To help, the company asked for submissions of images that might provide clues of the elf's whereabouts, and turned to Worth1000.com, the self-proclaimed "most creative contest community on the web" to capture them. Now that all of the submissions are in, BrickHouse Security is displaying some of its favorites on ElfGoneRogue.com. The submission it finds most useful in the fictional search will receive a real reward of $404.
Some of the creative and often surprising clues submitted included a floating hat in a scene from the movie Paranormal and a hat flying at George Bush in an incident eerily similar to the shoe throwing Bush endured during a press conference.
"We're certainly hoping this won't be a wild moose, er, goose chase and that the sleigh is safely returned by Christmas Eve," said the Spokesperson.
About BrickHouse Security
BrickHouse Security provides security and surveillance products to consumers, businesses of all sizes including roughly half of the Fortune 500, and more than 500 local and national government agencies such as the NYPD, LA County Sheriffs, and the FBI. The company and its products have recently appeared on the CBS Early Show, NBC's Today Show, ABC's Good Morning America, Fox News, and the Associated Press.
BrickHouse Security offers a wide range of leading-edge safety, protection, and counter-surveillance products to help its customers protect what they care about most. Its industry-leading experts seek to be the go-to source for all of its audiences' needs by providing timely information through the company's informative blogs and content, and by identifying, developing, and selling quality products that represent the best and the latest in safety and security.
The company is headquartered in New York City and serves a diverse US and international client base.
Media Contact
Jason Lazarus
Director of Marketing
BrickHouse Security
646-253-9131
jlazarus(at)brickhousesecurity(dot)com
###