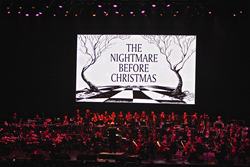 "Danny Elfman's music is so good, it's scary," said Linda Charlton, Vice President for Marketing and Audience Development for the North Carolina Symphony.
Durham, NC (PRWEB) January 15, 2015
Danny Elfman's Music from the Films of Tim Burton explores the collaborative relationship between music and storytelling, and the process and importance that this has in filmmaking. Experience this unique symphonic cinema concert performed by the North Carolina Symphony and choir featuring music from Batman, Edward Scissorhands, Tim Burton's The Nightmare Before Christmas, Alice in Wonderland and more when it comes to DPAC, Durham Performing Arts Center, on October 20, 2015, just in time for Halloween.
Tickets go on sale Friday, January 23 at 10 a.m.:

Online at DPACnc.com
DPAC Ticket Center: 919.680.2787, 123 Vivian Street, Durham, NC
Ticketmaster.com / Ticketmaster Charge by phone at 800.745.3000
Friends of DPAC members may place their orders on January 21. Joining Friends of DPAC is free, and you can register at http://www.dpacnc.com/fod.
"Danny Elfman's music is so good, it's scary," said Linda Charlton, Vice President for Marketing and Audience Development for the North Carolina Symphony. "The North Carolina Symphony is proud to partner with DPAC to present this family fun event to our audience right around Halloween."
"At DPAC, we strive to provide something for everyone in our concert line-up, and the addition of this event is unlike any other we have presented in our six-year history. By partnering once again with the North Carolina Symphony, the evening promises a perfect combination for cinema fans and music lovers," said Emily McLoughlin, Director of Marketing for Concerts & Comedy at DPAC.
Composer Danny Elfman and visionary Hollywood filmmaker Tim Burton have created a unique concert experience, blending music and visuals to celebrate the nearly three decades long partnership of two of Hollywood's top creators. This live concert features Danny Elfman's famous film scores brought to life on stage by orchestra and choir, enhanced by visuals on the big screen of Tim Burton's original film sketches, drawings and storyboards.
"…a raucous and unforgettable evening powered by a full orchestra and choir…It was an inspiring example of how to do a film music concert that should be forever imitated – a thoughtfully curated and varied program honoring the important marriage the music has to images while also letting the music breathe and come to life on its own. – LA Weekly
"A celebration of a longstanding artistic alliance, the concert features suites derived and reorganized by Elfman from his own compositions for Burton's films, while images of Burton's feature-related artwork are seen on-screen." – The Seattle Times
"As imaginative and inspiring as Tim Burton himself, this exquisite performance of Danny Elfman's genius at the Royal Albert Hall is dramatic storytelling in its purest form...Utterly evocative from the outset – chilling, rousing, innocent and epic – Elfman has the incredible ability to bring Tim Burton's pictures to unique and individual life through music." —The Upcoming
####
About the North Carolina Symphony
Founded in 1932, the North Carolina Symphony gives more than 200 performances annually to adults and school children in more than 50 North Carolina counties. An entity of the North Carolina Department of Cultural Resources, the orchestra employs 66 professional musicians under the artistic leadership of Music Director and Conductor Grant Llewellyn, Resident Conductor William Henry Curry and Associate Conductor David Glover.
Headquartered in downtown Raleigh's spectacular Meymandi Concert Hall at the Duke Energy Center for the Performing Arts and an outdoor summer venue at Booth Amphitheatre in Cary, N.C., the Symphony performs about 60 concerts annually in the Raleigh, Durham, Chapel Hill and Cary metropolitan area. It holds regular concert series in Fayetteville, New Bern, Southern Pines and Wilmington — as well as individual concerts in many other North Carolina communities throughout the year — and conducts one of the most extensive education programs of any U.S. orchestra.
ABOUT DPAC
Since its opening in 2008, DPAC, Durham Performing Arts Center, has become the center for live entertainment in the Triangle. Recognized for its contemporary design, DPAC features 2,700 seats, intimate sightlines and state-of-the-art sound and video. Listed four times in the top 10 in Pollstar magazine's annual worldwide theater attendance rankings, DPAC is currently the #4 ranked theater in the U.S.
What is up next at DPAC? Broadway's Biggest Blockbuster WICKED (January 7-25), America's Foremost Humorist & Host of A Prairie Home Companion, GARRISON KEILLOR (January 29) and Spend a Hilarious Ladies Night Out with 50 SHADES! THE MUSICAL PARODY (January 30).
For more information please go to http://www.DPACnc.com.