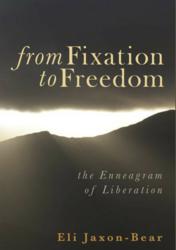 The enneagram gives us a wisdom mirror to see the false identity and to see through it to the essential qualities of the immortal soul, our true self.
Ashland, Oregon (PRWEB) November 18, 2011
For decades, the "Enneagram of Personality" has been used by spiritual seekers, self-help gurus, and even business executives, as a means of gaining insight into oneself and others through the nine personality types it unveils. Eli Jaxon-Bear's book, "From Fixation to Freedom - the Enneagram of Liberation", turns conventional wisdom surrounding the enneagram on its head, presenting a radically new model of the ego and the psyche. Jaxon-Bear uses the enneagram's nine fixated structures of ego to clearly describe not who you are…but who you are not. Once one identifies their own "egoic fixation", they can let go of who they think they are, and begin to recognize their true self—far deeper than the artificial constructs of personality and ego.
Jaxon-Bear's own spiritual path began in 1971, bringing him around the world and into many traditions and practices, including Zen, Tibetan Buddhism and Sufism. His path and search ended in India in 1990, when he met his final teacher, H. W. L. Poonja, a disciple of renowned Hindu spiritual master Ramana Maharshi. Confirming Jaxon-Bear's realization, his teacher sent Jaxon-Bear back into the world to share his unique psychological insights into the nature of egoic suffering in support of self-realization. Since then, Jaxon-Bear has dedicated his life to passing on the transmission of his teacher.
Jaxon-Bear's book presents a unique map of egoic identification as a vehicle for ruthless self-inquiry and final realization of true freedom. With humor and relevance, the author frequently points to well known public figures from the worlds of entertainment, politics, and history—both contemporary and historical.
"My motivation in writing this book is to give everyone the tools to wake up and be free, to live a life of authentic love. I wrote this book in the service of insight into one's true nature. The enneagram gives us a wisdom mirror to see the false identity and to see through it to the essential qualities of the immortal soul, our true self. This book brings together the insights I have gained through Zen and Tibetan Buddhism, the study of the enneagram and the transmission of Silence and Freedom by my teacher, H.W.L. Poonja," says Jaxon-Bear.
The author claims his book will help readers see how habits of egoic identification continuously appear to veil the pure, pristine consciousness that you truly are. When habits of mind are exposed, there is a clear choice to end the bondage of ego-based suffering and to realize the vast, inherent freedom of one's true nature.
According to a reviewer on Amazon.com: "Those interested in waking up shouldn't miss a page of the book's wisdom, truth, and humor. No one need pass a new age exam to understand. There are no practices, no mandatory mantras. Just a direct route to the core Truth. . . through self-examination."
The author admits his book is not for everyone, but rather is "only for those who are interested in self-discovery and finding the keys to live a liberated life."
Jaxon-Bear's students claim his book indeed has the map of the prison of mind and the keys to freedom. One need only read the author's work, and engage with the material, in order to test that claim.
"From Fixation to Freedom - the Enneagram of Liberation" is published by The Leela Foundation, and is currently available in print and e-book format from several popular online retailers, including Amazon.com, BN.com and Apple's iBookstore.
About the Author
Eli Jaxon-Bear is also the author of "Sudden Awakening Into Direct Realization" (New World Library), and editor of "Wake Up and Roar: Satsang with H.W.L. Poonja" (Sounds True). He produced the CD, "The Quickest Way to Enlightenment, Talks with H.W.L. Poonja" (Leela Foundation.) His CD set, "The Enneagram of Liberation from Sounds True" is a helpful companion to "From Fixation to Freedom". Eli was a keynote speaker at the First International Enneagram Conference at Stanford University where he introduced his unique approach to the use of the enneagram to uncover the structure of ego and the true self in his talk entitled, "Self-Realization and the Enneagram" (available on DVD from the Leela Foundation at Amazon.com).
Eli Jaxon-Bear leads retreats in the U.S., Europe, Australia and New Zealand, sometimes with his life-partner Gangaji. He leads a three year program for training helping professionals using the enneagram and non-dual realization in the passing on of the fire of love and freedom from heart to heart. Retreats are offered in Baden-Baden Germany; Ashland, Oregon; Paia, Maui; and Byron Bay, Australia. The Leela Foundation, which supports his retreats, is a non-profit organization dedicated to World Peace and Freedom through Universal Self-Realization.
About The Leela Foundation
The Leela Foundation, a 501(c)(3) non-profit organization, offers events, books, videos, audios, and outreach programs dedicated to world peace and freedom through universal self-realization.
###