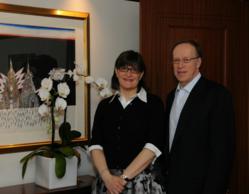 We are grateful to Elie for his long-standing support of the acting and stage performance community in New York, and we are proud to call him a friend
New York, NY (PRWEB) June 07, 2013
Elie Hirschfeld,and his wife Sarah Schlesinger Hirschfeld, are two of the founding donors for the new Drama League Theater Center, a new, state-of-the-art facility that will bring world-class theater artists, emerging talents, and New York theatergoers together under one roof. The Center is located on the lobby level of the historic former AT&T Building at 32 Avenue of the Americas, in the heart of TriBeCa's arts district.
"I have long supported working actors and stage productions in New York City and am proud to lend my backing to this important space to continue that work," said Elie Hirschfeld, who donated $3,000 to the project. "New York City and stage productions go hand in hand, from Broadway to the basement theaters across the five boroughs. I know this will be a great resource to the acting and performance community."
"We are grateful to Elie for his long-standing support of the acting and stage performance community in New York, and we are proud to call him a friend," said Stewart F. Lane and Bonnie Comley, of the Drama League Theater Center. "It is because of people like Elie that the acting community in New York City can flourish."
The Drama League Theater Center features the Joseph and Lauren Pizza Welcome Center, a full administrative suite, and the Jill and Martin Handelsman Legacy Gallery showcasing Directors Project alumni work on Broadway. However, the focal point of the Center is the Stewart F. Lane and Bonnie Comley Studio Lab, a brand-new laboratory/development space for theater artists to create and hone work for future productions. It will also act as a flexible multi-purpose space for a variety of programming including educational opportunities, audience-focused series and special events. This will allow the Drama League to better serve the entire New York theater community – directors, audience, playwrights and actors. When it officially opens to the public at the end of May, The Drama League Theater Center will offer artist residencies, play readings, open rehearsals, developmental workshops, lectures, classes, seminars, discussions, conferences, theatre-focused social gatherings and more.