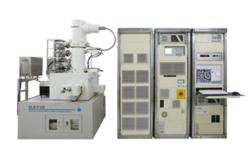 We are very impressed with the performance of this new system, states Dr. Eric Martin, Technical Director of Harvard's Center for Nanoscale Systems.
North Billerica, MA (PRWEB) May 31, 2011
Harvard's Center for Nanoscale Systems (CNS) has recently acquired the world's first 125kV electron beam lithography system to be installed in the United States. This system will be the most advanced instrument in its class for nanoscale patterning. Through Harvard's participation in the NSF's National Nanotechnology Infrastructure Network (NNIN) User Program, the Elionix ELS-F125 will be available for use to researchers across the nation desiring high performance nanotechnology fabrication services.
The model ELS-F125 is the latest product from Elionix in their 35 year history of manufacturing world class electron beam lithography systems. Upon its launch, the ELS-F125 was awarded the distinguished Nano-fabrication Technology Prize at Nano Tech, held in Tokyo, Japan. Nano Tech is the largest nanotechnology exhibition in the world, and the Elionix ELS-F125 was recognized for its capability as the only system able to routinely pattern 5nm lines. The benefits of producing the world's smallest line widths enable researchers to fabricate structures and devices that have innovative properties. Applications for these nano-devices are diverse and extend outwards into fields such as electronics, biology, chemistry, and optics.
In addition to the 125kV acceleration voltage, the electron optics and column design of the Elionix system delivers high beam currents resulting in very high throughputs. Furthermore, its newly designed WindowsTM-based graphical user interface is ideally suited for the multi-user environment associated with Harvard's Center for Nanoscale Systems.
"We are very impressed with the performance of this new system." states Dr. Eric Martin, Technical Director of Harvard's Center for Nanoscale Systems. "We have had several years of very favorable experience with our existing 100kV Elionix system. The improved throughput and ease-of-use enhancements provided with the ELS-F125 will allow even more of our users the opportunity to produce world-class results."
For more information about Elionix, and its products, contact Gary Brake at SEMTech Solutions, or visit our website dedicated to the Elionix product line at http://www.sts-elionix.com.
About Harvard's Center for Nanoscale Systems (CNS):
Operating as the New England regional node of the National Science Foundation's NNIN program, Harvard's Center for Nanoscale Systems (CNS) serves local universities and high technology companies by providing laboratory equipment access, expert training, and technical support on a fee-for-service basis. Full-time, highly-skilled staff members are available to provide instrument training, assisted use, and application consulting. Key competency areas include e-beam lithography, atomic resolution imaging, microfluidics, nanoparticles, focused ion-beam machining, and device fabrication for applications such as photovoltaics, lab-on-chip, sensors, and MEMS. If you are a scientist interested in using the latest technology and facilities to assist in your project, please see the CNS website for instructions on becoming a member of the growing CNS community.
About Elionix:
Established over 35 years ago, Elionix, Inc.'s business is in the research and development, design, and manufacturing of systems that utilize particle beams; electron, ion, and electromagnetic waves that include light and x-ray. Over the years, Elionix has manufactured more than 300 dedicated electron beam lithography systems and maintains the largest market share in Japan. Recent expansions into North America and Pacific Rim countries have strengthened Elionix's reputation as a world leader for its excellence in scientific instrumentation dedicated to nanotechnology.
# # #