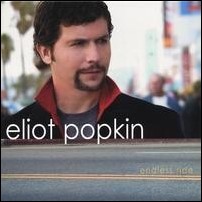 It has been a long road in the past three months servicing stations
Los Angeles, CA (PRWEB) January 17, 2007
Acoustic Pop Singer/Songwriter Eliot Popkin has gained strong interest on Internet radio with his latest single "Endless Ride," being added to rotation on Adult/AAA station Eye97.com and Mainstream/CHR station HitMusicStation.net, which are both popular channels in the iTunes Radio directory.
"It has been a long road in the past three months servicing stations", says Josh East, Senior Project Manager of MusiK1.net. "We've received much support with small and medium sized stations all across the format board, which has opened the eyes for larger stations. This is only the beginning for Eliot and what he has to offer the ever growing Internet radio audience".
"Endless Ride" has recently charted at #92 on the TOP 100 RadioWave Mainstream Format Charts, since the last week of December, which is quit a success story for any Adult/AAA independent artist in front of singles by Ludacris, Beyonce and Ashlee Simpson. Program Director, Raaj Menon, for Eye97.com adds, "It's quite a chore for any independent artist to gain a spot on the mainstream charts. I'm happy to see Eliot help set the tone."
With the music video for "Endless Ride" soon to be released at the end of January on YouTube and the likes, Eliot continues to hit the industry with new material. On another positive note, Eliot has been featured on a CD compilation for the I'm Too Young for This! project, launched by Steps For Living, the creative voice for cancer survivorship.
About Eliot Popkin
A Boston native, Eliot Popkin began writing poetry and singing at age six, while graduating from Berklee College of Music in three years with a Bachelor of Arts in Songwriting. Inspired by the singer/songwriter renaissance of the 60s and 70s with artists such as James Taylor, Elton John and more contemporary artists Mary Chapin-Carpenter and Tracy Chapman, Eliot started writing songs that defined his own life and musical vision. The result was the critically acclaimed "Down Along this Road" CD and his most recent chart topping CD, "Endless Ride." To learn more about Eliot Popkin and his music, feel free to visit him at http://www.eliotpopkin.com or via MySpace at http://www.myspace.com/eliotopkin, as well as on YouTube at http://www.YouTube.com/eliotpopkin.
Purchase Eliot Popkin Music
Endless Ride and Down Along this Road are available iTunes, CDBaby, and Rhapsody.com.
About Steps For Living
Steps For Living achieves it's mission through various communications projects and programs for the adolescent and young adult cancer community. To find out more information, please visit http://www.StepsForLiving.org.
Contact Info:
Shakir Entertainment
Shaun Cairo
tel. 201.248.7539
# # #