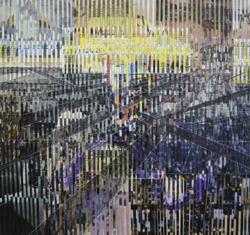 According to Uruguayan artist Adriana Rostovsky: "Every single artwork I create is composed of many forgotten treasures... I now understand why I see flowers in garbage piles on city streets."
New York, NY (PRWEB) February 15, 2013
Elisa Contemporary Art and transFORM Gallery present Re-Imagining Past Possessions, Works of Recycled Materials. The exhibit opens March 14, 2013 and will run through June1, 2013. This exhibit brings together artists from around the world to save the earth. Each artist's artwork is created from recycled and reused materials including magazines, scrap metal, junk mail and other discarded items.
Featured artists include:

Multi-media Canadian artist, Aurora Robson
Uruguayan Dimensional artist, Adriana Rostovsky
New York sculptor, Carole Eisner
Chilean artist, Rodolfo Edwards
Korean-Irish Mixed Media artist, Lisa Mee Doherty
These artists re-imagine the debris and discarded materials of our planet to create a new vision. For Canadian born Aurora Robson, she uses plastic debris, packaging materials and junk mail to create her multi-media artwork. These materials are transformed into mesmerizing and light-filled artwork. A Junk Mail collage entitled "Twister" will be on exhibit.
Sculptor Carole Eisner works with the leftover materials of our civilization including fragments of historic buildings, bridges, gears, tools, automotive parts and scrap metal. She recombines and reassembles these iron and steel scraps into new life through her creative vision.
Uruguayan artist, Adriana Rostovsky collects objects that others throw out. As a child, it ranged from gum wrappers to bus tickets, empty toy boxes to papers and postcards. She is drawn to recycled materials because they contain a history, a story, and reconnect her to her European past where recycling was a necessity for survival. Today, she transforms these materials into three dimensional artwork filled with stories of lives and loves.
Irish-Korean artist, Lisa Mee Doherty integrates recycled fabrics, papers and metals into her mixed media paintings to help balance our frail ecological planet. According to Lisa "By demonstrating how to reuse and recycle in a creative way… This is my way of making a difference."
Chilean mixed media artist, Rodolfo Edwards incorporates artifacts, modified pictures, photographs and papers from fashion magazines and other sources to create his architectural urban spaces. He transforms his materials into highways, and bridges and buildings that continuously flow into each other and away – an urban dynamic that is organic, harmonious and unique.
We will be hosting two special events:

Opening Reception with our artists on Thursday, March 14 from 6pm to 9pm
Earth Day inspired Children's Art Workshops using recycled materials to create artwork. "Transformation into Treasure" will be held on Saturday, April 20th from 11am to 2pm. There will be two sessions as follows:
For 5-8 years old from 11:00 am to 12:00pm led by artist, Lisa Mee Doherty
For 9 years old and older from 1:00 pm to 2:00 pm led by artist, Adriana Rostovsky
Exhibition and Event recap:
What: Re-Imagining Past Possessions. Works of Recycled Materials. A co-curated exhibit by Elisa Contemporary Art and transFORM gallery
Featured Artists: Lisa Mee Doherty, Rodolfo Edwards, Carole Eisner, Aurora Robson, Adriana Rostovsky
When: March 14 through May 31, 2013
Special Events:

Opening Reception, Thursday, March 14 from 6-9pm
Earth Day Children's Art Workshops on Saturday, April 20th from 11:00 am -2:00pm
Where: transFORM Gallery, 20 Jones Street, New Rochelle, NY, 10801.
Hours: Monday-Friday 9AM-6PM and Saturday 10AM-4PM
For additional information, visit http://www.ElisaContemporaryArt.com or contact Lisa Cooper at Lisa(at)ElisaArt(dot)com or 212.729.4974 or Kara O'Neill at transFORM at Events(at)transformgallery(dot)com or 914.500.1000