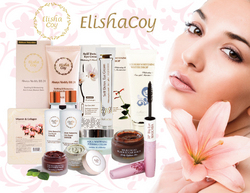 Early test marketing shows that sheer translucent creams with a pearl like affect are in demand with U.S. consumers
New York, NY (Vocus) May 17, 2010
Asian women worldwide are renowned for their smooth, porcelain-like skin. Now, for the first time, women in the U.S. market can achieve the same youthful results, as ElishaCoy shares its innovative products and secrets with the American market
ElishaCoy is a leading brand from So. Korea making its debut in the U.S. after a smashing launch in Japan. "Early test marketing shows that sheer translucent creams with a pearl like affect are in demand with U.S. consumers," says says Mira Zivkovish, President of MZI Global the New York based firm launching the brand in the U.S. "The lightweight translucent creams illuminate skin instantly while evening skin tone. We call it the 'no makeup' approach, creating complexion perfection."
Now, women in the US can benefit from ElishaCoy's dual treatment/concealing products that deliver a fresh, polished look to cover imperfections in seconds without actually applying makeup. The 100% natural cosmetic line delivers long-lasting effects to "let nature in" without harsh chemicals or harm to the skin or the environment. And, it provides a healthy alternative to traditional products that contain harsh chemicals.
Unlike traditional full-coverage foundation, ElishaCoy creams have a weightless feel that becomes fluid on contact, melting into skin. The minimal pigment levels create a sheer diaphanous finish so skin looks lit from within.
FOR THE FIRST TIME IN THE U.S.:
BB Cream
Already the #1 line in Asia, the natural ingredients in the ElishaCoy popular Korean beauty brand are depended on by women of all ages to lighten and even out skin tone. One of the most popular products in the line, BB Cream, has been all the rage in Korea since it launched in 2007. Originated in Germany, BB or "Blemish Balm" cream was used to protect and treat sensitive skin after chemical peels or skin treatments. It was first introduced in Korea through dermatologists, but its transformative concealing results quickly spread throughout the general public. ElishaCoy BB creams now have cult-like status in Asia and are a favorite of many Asian celebrities. The results will open up a new level of expectations for consumers in the U.S. as they are introduced here for the first time.
Women in their 20s, often prone to acne and uneven skin tone, feel confident and protected knowing that the BB creams featured in this line not only conceal blemishes, but heal the skin at the same time.
Always Nuddy BB 24 (BB Cream) creates a flawless no-makeup look while protecting sensitive skin. Developed with safe natural ingredients that won't damage skin, one user revealed, "ElishaCoy's Always Nuddy BB provides good coverage and moisture. The texture of the cream is light and smooth, unlike other bb creams, so it feels like you hardly have anything on your face."
Always Triple BB Cream SPF 30 is also a top seller throughout Asia for its ability to protect skin from sun, improve wrinkles and whiten skin to conceal any imperfections."After applying BB cream, I can see an 80% improvement in my skin complexion," said one user. "My pores appear smaller and my blemishes are concealed." Made with all natural contents such as rose hips, acerola, caviar and royal jelly, women appreciate the light and healthy feeling of the cream as a welcoming variation from the caked-on, heavy feeling that often comes with wearing make up for a long time.
Self Detox Eye Cream
As women mature and experience wrinkles, dullness and age spots, ElishaCoy formulas brighten the skin and create a more even complexion using healthy and powerful herbs, botanicals, plants and flowers that naturally restore the skin's true beauty. Self Detox Eye Cream firms and smoothes the delicate eye area using Tomato Callus Extract that is easily absorbed. Wrinkle Out Perfect Line Cream boosts moisture and diminishes wrinkles by preserving collagen through five patented ingredients including: Geranium, Salad Burnet, catechu, Lotus, Cinnmon Bark.
"Many women in the US use products with high levels of damaging chemicals to even out skin tone and treat hyper pigmentation," says Mira Zivcovich, President of MZI Global Marketing, the New York based firm responsible for launching the brand in the States. "ElishaCoy uses all natural formulas, assembling the best ingredients from around the globe, with patented blends that care for skin while perfecting imperfections."
According to Dr. Neil Persadsingh, leading Jamaican dermatologist and author of "Acne in Black Women," many skin whitening beauty products work by killing melanin, the substance that protects the skin from cancer-causing ultraviolet rays, and contain hydroquinone, a de-pigmenting agent that is fatal in large concentrations. The ElishaCoy philosophy holds that chemicals and harsh ingredients aren't essential to revealing beautiful skin. In fact, chemicals can have the opposite effect. Natural ingredients restore the body by infusing elements inherent to its make-up. ElishaCoy products are natural, gentle and non-damaging, and contain lightening and anti-aging ingredients as well as essential UV protection.
Aqua Whitening Pudding Cream
This rich and resilient product uses Arbutin, a natural skin whitening agent found in the leaves of cranberries, bearberries, blueberries and pears, to restore and promote melanin and a marine based collagen to help fight wrinkles while lightening.
Ice Herb Whitening Water Drop is a gel-based moisturizer that also uses Arbutin to whiten the skin and treat hyper pigmentation caused by acne, infections and scars.
The natural clay used in ElishaCoy's Herb Clay Pore Refining Mask stimulates circulation, removes dead skin cells, absorbs dirt and debris and draws out toxins in the skin. By incorporating the antifungal and antibacterial benefits of Corchorus olitorius leaf extract (Tossa Jute) damaged skin cells are healed, making the product a helpful remedy for psoriasis, eczema and acne. "My skin looks refreshed and the mask has a very nice scent," said a tester."It's a relaxing must-have."
Since 2004, ElishaCoy has implemented a nature-based scientific approach to develop authentic and organic beauty products. The product line uses gentle ingredients that have proven their effect in nature, such as:

Arbutin - found in the leaves of cranberries, bearberries, blueberries and pears, this natural whitening agent restores and promotes melanin and treats hyper pigmentation caused by acne, infections and scars. It also works as a whitener for freckles.
Chamomile - softens, tones, and balances inflamed skin and reduces unsightly capillaries and pores.
Argon Oil – found in Morroco on Argan trees, it is one of the rarest oils in the world containing vitamin E, essential fatty acids, and antioxidants to treat dry skin, wrinkles and acne.
Mulberry Root Extract – used through ancient times in Asia for its traditional healing properties and skin whitening capabilities, it also promotes elasticity.
Lemon Extract – used for its anti-wrinkle capabilities, it contains high concentrations of Vitamin C, which works with collagen to keep the skin firm and flexible. Its aromatherapy properties also enhance moods.
Marigold Extract – preserves beauty and prevents infection with its antioxidant, anti-bacterial and anti-septic properties.
The ElishaCoy cosmetics also adhere to the philosophy of using scientifically proven natural ingredients. 38 Big Eye Mascara creates glossy voluminous lashes with a two-fold effect. One side of the wand boosts fullness and volume while the other side adds shimmering shine to make lashes look longer and highly defined. Always Kiss Tint Gloss is applied with two distinct brushes to lock in moisture and infuse color, leaving lips with a natural, kissable finish and delicious shine.
ElishaCoy products will be available through http://www.koreancreation.com, an e-commerce web site starting on June, 2010. Wholesalers and distributors please contact MZI Global Marketing at 212 366 5409.
About MZI Global:
MZI Global is the ultimate resource for South Korean products. MZI Global's Ethnosynergism® network of relationships includes local and foreign governments with 1000+ companies and across 10 + cultures and languages. Through a central contact point, MZI Global enables the U.S. supply chain to deal with one resource and who understands U.S. corporate needs, while introducing international markets with innovative products from Korea. MZI Global, often called a "deal maker", focuses on cost-effective market entry on a global scale.
MZI Global's clients represent some of the leading ECO - GREEN Asian suppliers across various industries including: Cosmetics – beauty supply, food and beverage, furnishings, technology, equipment, linens, amenities, cleaning, and more.
With full support of the SBC Korean exporting agency and its trade association, South Korean companies are becoming trusted partners for U.S. buyers. Hundreds of new South Korean products can be sourced via the MZI Global network.
Under the leadership of president and CEO Mira Zivkovich, recipient of the 2007 Ellis Island Medal of Honor, MZI Global puts its international, multicultural marketing expertise to use through strategy development and implementation. Learn more at http://www.mziglobal.com.
###