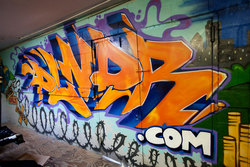 Farmingdale, NY (Vocus) June 10, 2010
Elite Gudz graffiti artist and designer, Phetus, was commissioned by the members-only fashion hub, PLNDR.com, to execute a creative production that would represent their vision and brand. The video of the event is now available to audiences through Karmaloop TV.
In the video, Phetus is seen in his printing studio painting a mural across three walls while simultaneously hand screening a run of T-shirts, both featuring his iconic "Phat Phace" logo and "Phe-Gnome" character, plundering a village as it burns to the ground.
View the video here -
http://www.karmalooptv.com/2010/05/elite-gudz-x-phetus-for-plndr-be-the-1st-to-know
&
http://www.youtube.com/watch?v=UJEE-QHy0Zc
Get in the know- visit EliteGudz.com
Download the Elite Gudz Graffiti Spray Can App for FREE on the iTunes Store http://itunes.apple.com/us/app/graffiti-spray-can/id372003395?mt=8
To view the entire first issue of Concrete Immortalz online, visit ConcreteImmortalz.com
For behind-the-scenes content, visit the Elite Gudz Facebook Fan Page @ http://www.facebook.com/pages/Elite-Gudz/194289207940
Contact:
Brian Ferrara
Elite Gudz
Phone: 631-768-3186
http://www.elitegudz.com
http://www.concreteimmortalz.com
brian@elitegudz.com
###