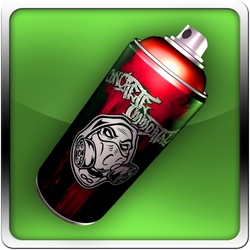 Long Island, NY (Vocus) May 20, 2010
Elite Gudz has released their first App for the iPhone, iPod Touch and iPad, which is available on the iTunes store right now, for free.
The "Graffiti Spray Can" App is a free download, developed by and highlighting the artwork of the Elite Gudz team, featuring Phetus, Mr. Den, Rodolfo Ledesma, Narek Gevorgian and Brian Ferrara.
Features:

Realistic Shake Animations and Rattle Sounds
Multiple Spray Can Skins and Colors
Touch-Screen Spray Action
Fun, Easy to Use Paint Program
Swipe & Swap Backgrounds
Save your creations, Email to friends or Upload to the web
Frequent Updates and Downloadable Content including New Backgrounds, New Colors and New Can Skins
Premium Version Includes:
Camera Functionality
Physics-based Paint Drips
Mini Games
Exclusive Concrete Immortalz Comic Content
Secret Unlockables!
You can download the "Graffiti Spray Can" App directly from iTunes by clicking here –
itms://itunes.apple.com/us/app/graffiti-spray-can/id372003395?mt=8
Or, search for "Graffiti Spray Can" through the App Store from your iPhone, iPod Touch or iPad.
Get in the know- visit EliteGudz.com
To view the entire first issue of Concrete Immortalz online, visit ConcreteImmortalz.com
For behind-the-scenes content, visit the Elite Gudz Facebook Fan Page @ http://www.facebook.com/pages/Elite-Gudz/194289207940
Contact:
Brian Ferrara
Elite Gudz
Phone: 631-768-3186
http://www.elitegudz.com
http://www.concreteimmortalz.com
###