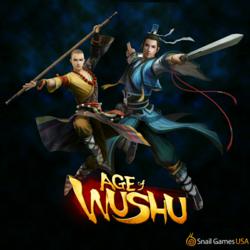 "We want to give new fans a chance to take advantage of the Elite Edition's rock-bottom price," says Dick Roberts, EVP of Marketing, Snail Games
Los Angeles (PRWEB) October 16, 2012
Due to the overwhelmingly enthusiastic response to the upcoming martial arts MMORPG Age of Wushu at GDC Online and New York Comic Con, Snail Games has decided to extend the special offer period of the Elite Edition presale package. Awareness of the game in the North American market has exploded following a welcoming tour featuring appearances and speeches by Shi Hai, the company's founder and chairman, live game demos of Age of Wushu, and in-person sales of the game.
"A large portion of the new publicity we received during each show was through word-of-mouth," says Dick Roberts, EVP of Marketing at Snail Games and entertainment industry veteran. "We want to give new fans a chance to take advantage of the Elite Edition's rock-bottom price."
The Elite Edition sale will now close on November 14th, 2012. Soon after, the first Closed Beta of the English version will begin. Following the end of this Beta, three new bonus-packed editions of the game (Deluxe, Premium, and Collector's) will be announced.
About the Elite Edition
The Elite Edition is the perfect welcoming gift to Age of Wushu; it is stuffed with unique in-game and real world items and includes a full digital copy of the game. With a value more than fivefold the selling price, bonus contents of the package include:

Entry to Both Closed Betas in 2012: Age of Wushu has two betas coming later this year, one in November and one set for the Holiday break in December.
Entry to the Exclusive Access Period in 2013: Purchasers of the Elite Edition will be automatically included in the 90-day Exclusive Access window at the title's North American launch. Players will have 3 months of play to explore the world, craft weapons, and build clans prior to the game's Free-to-Play launch on May 3rd.
Elite-Edition-Only Items and Events: All purchasers will receive a limited edition mount, virtual vanity items, and access to Elite-only features to be announced later.
Wushu Adventurers Pack: A virtual starter's kit for new players, the Adventurers Pack is stuffed with healing potions, power-ups and more; all which can be used—or traded in game—by the owner.
Coming to the US on February 1st, 2013, Age of Wushu gives players a chance to pick from one of eight unique schools based upon famous martial arts disciplines such as Shaolin and Wudang. Set in the mythical and enchanting world of Jianghu, Age of Wushu brings the Chinese cultural tradition of Wuxia — seen in such blockbuster films as Crouching Tiger, Hidden Dragon and Hero — to virtual life.
For more information, assets, or to arrange interviews please email: pr@snailgamesusa.com.
For more information on the game and purchase details, please visit: http://www.ageofwushu.com or visit the Age of Wushu Facebook hub at http://www.facebook.com/AgeOfWushu.
Snail Games
Based in Los Angeles, CA, Snail Games is committed to delivering the highest-quality interactive experiences to gamers worldwide. To learn more about Snail Games, please visit: http://www.snailgamesusa.com.
Snail Game China
Named as one of the "Top Game Developers Worldwide," Snail Game is a leading developer of MMO and interactive online games in China. Founded in October 2000, Snail Game's growing library of titles includes 5 Street, Age of Armor, Voyage Century, Heroes of Gaia, and the upcoming MMORPG Black Gold. Snail Game's wildly popular titles are currently sold and distributed worldwide. To learn more about Snail Game, please visit: http://www.snailgame.net,