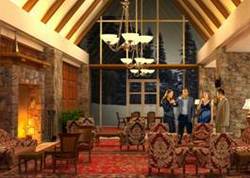 Our goal is to create a top tier luxury environment where discerning ski travellers can explore and plan all aspects of their next vacation.
London, UK (PRWEB) May 17, 2010
Remember that time when the web was young and full of exciting surprises behind every click? How about that sense of expectation and enthusiasm with which we would fire up our turbo modems (yes the dial up generation is still around) to go out into the wild and untamed web in search of something new and cool? If you fast forward to today and ask yourself the question "Which website made you go ape with drop jaw amazement recently"? Chances are you will be struggling for answers. The sad truth is that over the last few years the web has lost some of its wow factor.
It begs the question: At a time when we are used to seeing technological innovation every other day, why is it that the vast majority of websites seem to have stood still?
If you look at business websites, the situation is even more dire. Why do businesses still believe that a website will attract new customers if you have a 'together' photo of the team (truly inspiring) and a truck load of clichés about 'our commitment to client service' that the vast majority of people know will last five minutes if they are lucky?
Do your own brief survey on the web and count how many times you come across --our difference is our people; unique approach to total quality; client service drives everything we do; we really connect with our customers; we always go the extra mile (no they dont!); innovative solutions at the most competitive price, and best of all, 'we think out of the box' which almost guarantees that they don't because if they did they wouldnt have such a stupid cliché on their website.
If the web were a fashion parade then the vast majority of sites would be wearing shoulder pads with back combed hair that would have looked more at home in the first series of 'Dynasty'. It would be refreshing for a website to put their hand up and state "We sell and say the same thing as thousands of other sites however, we would appreciate it if you would stick around out of kindness because we surely have no idea how to make you stay".
So in this uninspiring environment of 'Clichés Are Us', it is actually good to find a site that brings "wow" back to the web.
Elitemarket.com , the London based online ultra-luxury showcase, today announced the launch of the first virtual ski village on the Internet. The elitemarket "Ski Pavilion" will give users access to a highly select list of the worlds best ski resorts, ski hotels, prime winter vacation property and ski equipment all set within the same virtual ski village.
Unlike the vast majority of websites which are one dimensional and based on text and pictures, elitemarket.com has deployed Flash based graphics to create a high resolution virtual environment with moving images that makes the user feel like they are exploring a real ski resort. The focus of the site is luxury goods and services and the aim is to present luxury brands in an environment that is consistent with, and compliments the essence of, the participating brands.
The luxury industry has generally been slow to adopt new digital approaches to the market but sites like this are challenging the status quo and demonstrating that virtual environments can be both pleasing to the eye and an effective way to view luxury goods.
The Ski Resort is the first virtual 'pavilion' to be launched by elitemarket.com and this will be followed later this year by a Marina, a Fine Wine & Spirits Cellar, Jewellery & Watches, and Fashion & Leather Goods. These further pavilions are already in beta version and can be accessed on the site along with the Ski Resort.
Andrew McErlain, the CEO of Elitemarket states that, "Our goal is to create a top tier luxury environment where discerning ski travellers can explore and plan all aspects of their next vacation. The Ski Pavilion is a one-stop shop for the luxury skier with the finest resorts, top hotels, prime property and the best equipment. As an illustration to the commitment to the quality end of the market the site will only list ski property valued at over $1m (US)."
McErlain added: "One of our key objectives in the Ski Pavilion is to give the user a truly immersive luxury experience in an environment that complements the participating brands and resorts. In an industry where the vast majority of websites have got caught in the old design tramlines of a pictures and text format and, as a result, are instantly forgettable, we felt it was time to take a different approach. With the Ski Pavilion, we have created a more visually stimulating browsing environment that is not only pleasing to the eye but is also more effective for the presentation of luxury goods and services."
About Elitemarket Ltd
The company was incorporated in December 2008 and is focused on the development, launch and management of a high end graphical website for the presentation of luxury goods and services. The companys offices are at 33 St Jamess Square, London, SW1Y 4JS.
Elitemarket Ltd is owned and managed by its founding directors and shareholders, Andrew McErlain and Deepinder Sahni. Both founders were previously directors and shareholders of KCS Global Holdings Ltd which was sold to Sage PLC in October 2007.
If you require any further information please contact:
Andrew McErlain - +44 (0)207 661 8022

or - Rupul Safaya - +44 (0)207 661 8022
Press Materials:
If you require high resolution images please contact the management team via the above telephone numbers or by email:
andrew(dot)mcerlain(at)elitemarket(dot)com
rupul(dot)safaya(at)elitemarket(dot)com
# # #