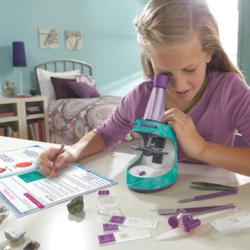 The new Nancy B Science products will help parents spark their daughters interest in science. After all, sometimes all it takes is a little spark.
Islandia, New York (PRWEB) May 02, 2013
Science for girls needs to get energized in the United States and EliteToyStore.com is taking steps to help parents make sure girls are given the same opportunities as boys to spark their interest in science. The online toy store has added the Nancy B. Science Club products that are designed to inspire girls with a sustaining interest and passion for science.
In the U.S., boys still outperform girls on science tests. In a recent New York Times article, The Organization for Economic Cooperation and Development reported that boys in the U.S. outperformed girls on a science test by 2.7% but in most other developed countries girls outperformed boys. The test was given to 15-year-old students in 65 countries.
"As a mother I share the concerns with other parents of giving our daughters the same encouragement and support as we do for boys," said Maria Shehata, owner of EliteToyStore.com. "Parents and educators have been looking for the girl in "girls science" and the Nancy B. Science product line is just what we've been looking for."
The reasons for the disparity between girls in the U.S. and in other countries are, primarily, that boys in the U.S. are more likely to view science as something that affects their daily lives and the cultural stereotype regarding appropriate gender occupations that forms in early childhood that is reinforced.
Around age 4, gender roles related to occupation are formed, according to Christianne Corbett, co-author of a 2010 study, "Why so few women in Science, Technology, Engineering and Math?" The Nancy B. product line breaks through the stereotype. The product line was created by Nancy B., a former science teacher, and she offers girls a role model to show them that science is cool and fun.
Nancy B. offers a number of science kits geared for girls that include amazing scientific tools. The products consist of microscopes to complete dozens of activities, Nancy B's Science Club Binoculars and Wildlife Activity Journal, a Moon Scope to magnify the sky and explore, an Aqua Scope to explore under water or to see what is lurking below, and a Crime Solvers Scope for a make believe crime scene. There are other kits suitable for both girls and boys.
"The new Nancy B Science products will help parents spark their daughters interest in science," said Shehata. "After all, sometimes all it takes is a little spark."
For more information about the new science products, contact Karen Wagner at (646) 322 8365 or karen(at)EliteToyStore(dot)com, or visit http://www.EliteToyStore.com.
About Elitetoystore.com
Based in Islandia, NY, Elitetoystore.com is a specialty online toy store offering high-quality educational toys, personalized service and robust features for customers shopping online. The site is a rich and informative resource that provides parents and teachers with unique product details and descriptions, great information on play, helpful suggestions for gift givers, and a great gift finder. Founded in 2005, the family-owned business selects toys with the health and happiness of children at heart. The website has a wide-range of toys including Kids Ferrari Cars, Calico Critters, Nursery Musical Rockers, Science Kits, Ride- On Toys, Old Fashion Pedal Cars, and Play Houses.