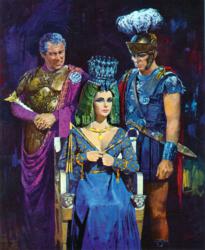 I don't remember much about Cleopatra. There were a lot of other things going on.

Elizabeth Taylor
Los Angeles, California (PRWEB) December 01, 2011
One of Hollywood's most iconic motion picture paintings of Elizabeth Taylor is set to be sold on December 16, 2011 at the Payley Center For Media in Beverly Hills, CA.
Profiles in History is pleased to announce the auction of Howard Terpning's famed "Royal Portrait of Elizabeth Taylor as Cleopatra". The painting has been in a private collection and held out of public view for almost 35 years.
It was commissioned in late 1962 by 20th Century-Fox Studios to be used in various promotional materials, specifically the master one-sheet poster exhibeted in all movie theaters screening the film which was set to be released in June of 1963.
This historic painting depicts Elizabeth Taylor as Cleopatra upon a solid gold throne, crowned, jeweled and garbed in a gown of royal blue holding forth the Flail & Crook of Osiris, the pharaoh's supreme symbols of royalty, majesty and dominion over ancient Egypt. On either side stand Richard Burton as Marc Antony and Rex Harrison as Julius Caesar. All three of these great Hollywood stars are costumed in the ornate royal state attire of their movie characters.
Howard Terpning, known for the intricate details of his paintings, ceased doing commissions for Hollywood's studios in the early 1970's and went to become one of America's most famous painters of the Plains Indians and the American Southwest. He is one of only 33 members inducted into the Cowboy Artists of America. His paintings have sold for over $1.5 million dollars and are held in museums and private collections in America and overseas.
A rare once in a lifetime opportunity to acquire one of the most important and iconic motion picture paintings ever of Elizabeth Taylor, Hollywood's last great female star, at the zenith of her career.
Profiles In History has placed a conservative auction estimate of $60,000.00-$80,000.00 on this historic painting, but as with "all things Elizabeth Taylor" expect it to fetch a much higher price at auction.
Included with this lot is a framed master one-sheet poster and a premiere program encased in lucite both depicting the painting.
FOR FURTHER INFORMATION ON THIS HISTORIC PAINTING: http://elizabethtaylorcleopatra.com/wp-content/uploads/2011/12/Icons-of-Hollywood-Day-2-Catalog-Royal-Portrait.pdf OR http://elizabethtaylorcleopatra.com
PROFILES IN HISTORY WEBSITE: http://www.profilesinhistory.com
PROFILES IN HISTORY CONTACT INFORMATION: info(at)profilesinhistory(dot)com
AUCTION SITE:
THE PAYLEY CENTER FOR MEDIA
465 North Beverly Drive
Beverly Hills, CA 90210
(310) 786-1070 http://www.payleycenter.org
Also going up for auction on December 13th, 14th, 15th & 16th are the "The Jewels of Elizabeth Taylor" by Christie's Auctions New York. Included in this historic sale will be Ms. Taylor's extensive couture collection as well as 20th Century art, collectables and movie & entertainment memorabilia from her Nimes Road, Bel Air, CA estate.
###