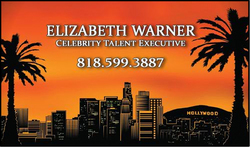 I've been very fortunate to work for as long as I have in this biz
Hollywood, CA (PRWEB) September 10, 2009
Elizabeth Warner has been retained to book celebrity guests to appear on HGTV's upcoming Holiday Celebrity Design Special airing December 6th on HGTV.
Each of the guests will have a specific activity or event they would like to tackle on the show....they may have a room to be decorated for the holidays, or perhaps they will be hosting a dinner party and want a first class Christmas theme to draw attention to the table. Another guest may be having a Chanukah party and want to spice up the look of a room in the house or may be expecting family over and want to revamp some old and existing Christmas or Kwanzaa items for a living room makeover. Someone may be hosting a holiday fundraiser for their favorite charity and needs some catchy displays to remind the guests of the good cause they are supporting.
Now firmly established as the go-to celebrity booker and casting expert, Elizabeth was raised in West Los Angeles, attending University High School. She began her career as a page at NBC Studios in Burbank where she found the doors open to someone as vivacious and friendly as she was. While at NBC, she became a personal assistant to Ed McMahon. As luck would have it, on a chance trip to NYC she ended up at the offices of Lorne Michaels at SATURDAY NIGHT LIVE where the talent department was looking for an assistant. Elizabeth had 2 days to move to NYC to begin her adventure with the legendary program. Working with the talent executive at SNL, she learned the ropes of booking celebrities, an art she quickly mastered. After SNL, Elizabeth went on to ply her trade in booking numerous television shows; a particularly high point was securing Bob Dylan for the Primetime Emmy Winner, CELEBRATING GERSHWIN.
"I've been very fortunate to work for as long as I have in this biz," states Elizabeth. "Booking celebrities is a real passion of mine, I love the excitement, challenge, and especially the people I work with - there is a lot of teamwork in every production."
Returning to Los Angeles after several years in the Big Apple, Elizabeth has gone on to forge a career as one of the most sought after celebrity bookers on both coasts. Past projects include DR. PHIL, THE DOCTORS, SUPPER CLUB WITH TOM BERGERON, NAOMI JUDD'S NEW MORNING, SOAPTALK, CNN and THE ROSEANNE SHOW. With Elizabeth's never-ending energy and amazing celebrity booking and casting abilities, she is an asset to any production.
A graduate of the University of California Irvine, Elizabeth resides in the Burbank Hills, with husband Richard J. Frank and son Aaron. For inquiries please email elizabeth at elizabethwarner dot tv. For a full resume, please visit her website.
# # #