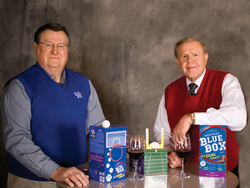 "Kentucky Blue Box Wines are the No. 1 pick for basketball tournament fun. In the fall, Elk Creek's convenient beverage dispensers will be mainstays at football tailgate parties."—Curtis Sigretto, owner, Elk Creek Vineyards
Owenton, KY (PRWEB) March 18, 2010
Elk Creek Vineyards, located in arguably the most avid basketball state in the country, has engaged retired NCAA coaches Joe B. Hall and Denny Crum to ensure that its new Kentucky Blue Box Wines are served during the next three weeks at every March Madness party hosted in the Southeast Conference.
Elk Creek's owner Curtis Sigretto said that he expects celebrity representation will do more than pace the wine box product launch to 2010 Final Four success: "We're also building momentum to expand this concept into other markets."
Kentucky Blue Box Wines double as beverage dispensers and game surfaces; perforated pong hoops and field goals provide ready-made entertainment. A ping pong ball and mini football are included.
Hall, University of Kentucky (UK) head coach from 1972-1985, and Crum, University of Louisville (UofL) head coach from 1971-2001, are featured in an Elk Creek-produced commercial, display advertisements and retail point-of-purchase displays. The basketball legends tout: "It's not just a game. It's a great wine, too!"
A national rollout of other sports-inspired wine boxes is achievable in 2010, Sigretto said. He has met with mid-sized wineries interested in Elk Creek's patented, eco-friendly package design; several color-themed prototypes are under development.
Complexity meets simplicity
Seven complex Elk Creek varietals are "bottled" under the Kentucky Blue Box label: Concord; Vidal Blanc; Tailgate White; Tailgate Red and Sweet Mellow White are sold for $19.99. Elk Creek's Blue Box Chardonnay and Cabernet Sauvignon retail at $29.99.
Boxes contain the equivalent of four bottles of wine. "We're pleased to model European traditions of serving premium wines in biodegradable packaging. But going 'green' wasn't my only inspiration... I'm a 'True Blue' fan," Sigretto notes. Once tapped, the wine is guaranteed to remain fresh for up to 60 days.
Kentucky Blue Box Wines are available online or at Elk Creek Vineyards' four retail locations (Florence Mall, Florence, Ky.; Mall St. Matthews, Louisville; Fayette Mall, Lexington and Lexington Center, adjacent to Rupp Arena). Elk Creek wines can also be purchased at select beverage stores.
Elk Creek Vineyards, Kentucky's largest winery, is located approximately one hour from Lexington, Louisville and Cincinnati and two hours from Indianapolis. The winery offers a wide choice of reds and whites that are produced and bottled on-site; it also features an art gallery, deli and B&B lodging. For more information, visit elkcreekvineyards.com.
###