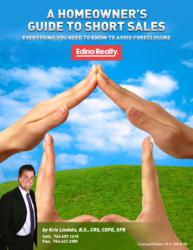 "I also receive calls from all over the country, so I have created a strong network of highly trained and experienced short sale agents to help everyone from any geographical location in the country,"
Elko New Market, MN (PRWEB) November 13, 2012
The experienced Elko New Market Short Sale Agent, Kris Lindahl, helped hundreds of people with short sale information at the last Short Sale Seminar, which was booked solid. "We had to turn people away because there was no room left, so I am going to hold another short sale seminar," Kris Lindahl explained.
"There are so many people looking for short sale information, because of the current real estate market," Kris LIndahl says, and continues, "so I not only will be holding more Short Sale Seminars, I have been creating many different online resources that people can use to get short sale information. Kris Lindahl explains, "Because of the complexity of the short sale process, and the fact that different banks handle the short sale process in different ways and have different requirements, people are searching for short sale information and help."
Kris Lindahl, the #1 Edina Realty short sale agent explains, "The short sale process can be a very short process when hiring the right real estate agent. Before going through a short sale, make sure you have done your homework on the real estate agent and company you decide to hire. Once you have found an experienced short sale agent, the process is actually quite simple. I am connected to top short sale agents throughout the country."
Kris Lindahl has gathered some very experienced, hard working full-time Realtors that hold designations including, Certified Distressed Property Experts, Short Sale and Foreclosure Resources, and Council of Residential Specialists as, The Kris Lindahl Short Sale Team at Edina Realty. The Kris Lindahl Short Sale Team specializes in general residential real estate, working with first-time home buyers and distressed property sales. People from around the country can also call the experienced Elko New Market Short Sale Agent Kris Lindahl, at 763-447-3925, to get personalized service, and help with their short sale.
"I published an eBook that will also help people with the short sale process, the "Homeowners Guide To Short Sales" which can be downloaded at the HomeOwnersGuideToShortSales.com website," the experienced Elko New Market short sale agent Kris Lindahl explains. "Many people from all over the country have downloaded the ebook, and are watching the videos in the Short Sale Video series I recently released," Kris Lindahl remarks.