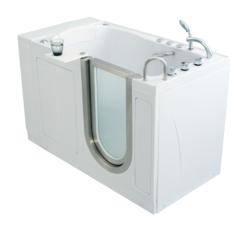 This new Partnership with HomeDepot.com offers customers another option to buy Ella Acrylic Walk-In Baths.
Chicago, IL (PRWEB) February 01, 2013
Ella's Bubbles, LLC has been specializing in acrylic walk-in bathtub development, production and distribution for the USA and Canadian markets since 2005. A relationship with The Home Depot is a natural progression, bringing Ella products direct to the consumer. Now, in addition to the 1,500+ registered dealers in the Ella Authorized Dealer Network throughout the USA and Canada, Ella Acrylic Walk-In Bathtubs are now available online at HomeDepot.com.
Laimonis Magone, Founder of Ella's Bubbles, LLC said, "This new relationship with HomeDepot.com and HomeDepot.ca provides our customers with another platform to learn about Ella Walk-In Baths and gives them the option to buy from a source they know and trust, a winning solution for both companies". At Ella's Bubbles feedback from the customer has driven the expansion of the Ella product lines to provide customers with the best options on the market for Acrylic Walk-In Bathtubs, Gel Coat Fiberglass Walk-In Bathtubs, Barrier Free Showers, Low Threshold Showers, Roll in Showers and Barrier Free Shower Bases. Premium quality material, customizable features and ease of installation make Ella Products the best selection for any bathroom modification.
As Ella's Bubbles continues to grow, evolve and expand, the focus is on promoting a greater sense of independence and pleasure through elegant design, innovation, and safety solutions. Ella's Bubbles is very excited to be able to offer customers the ability to buy Ella Acrylic Walk-In Bathtubs at HomeDepot.com and HomeDepot.ca. Each Ella Acrylic Walk-In Bathtub is backed by a limited lifetime warranty on the frame, shell, door, and seals; and all parts come with a five year warranty.
About Ella's Bubbles, LLC
Ella's Bubbles, LLC a nationally distributed OEM manufacturer of acrylic walk-in bathtubs, fiberglass gel coat fiberglass walk-in bathtubs and accessible showers based in Chicago. Ella's Bubbles is committed to providing value added products that are manufactured with outstanding quality while providing consistency in servicing our customers with excellence.
Tory Ruohonen
1-800-480-6850
info(at)ellasbubbles(dot)com