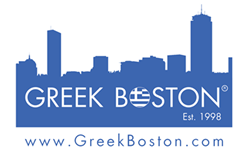 Being able to watch Greek TV shows and Greek programming right on your computer or mobile device means being even more connected to our heritage.
Boston, MA (PRWEB) June 05, 2014
GreekBoston.com (http://www.greekboston.com), the leading Greek community website for New England, today announces its partnership with Ellas TV (http://www.ellastv.gr), is the first & foremost IPTV platform for Greek TV channels throughout the world. This partnership enables GreekBoston.com to stream Greek TV shows live directly on the website.
Nick Stamoulis, the President of GreekBoston.com, says, "We are so happy to be offering this new video streaming service to the fans and followers of Greek Boston. Just because many of the Greek-Americans here in New England weren't born in Greece that doesn't mean we don't feel intimately connected to the culture and the language. Being able to watch Greek TV shows and Greek programming right on your computer or mobile device means being even more connected to our heritage."
Mario Pappas, CTO of Ellas TV says, "There are three main things we believe in: customer service, updated content & programming, affordable pricing. For many years international programming was broadcasted through satellite and cable with limited channels in the United States, Ever since 2010, when Ellas TV was born, we've managed to elevate broadcasting to a different level. Our service is unbeatable especially when it comes to quality and service. The internet is the future of streaming media."
Learn more about Ellas TV on Greek Boston at http://www.greekboston.com/tv/ellas-tv/.
GreekBoston.com will be streaming Greek TV from the following channels thanks to Ellas TV:
MEGA TV: Mega TV Greece is a general entertainment channel offering Greek news, comedy, dramas, reality & games shows. Watch Mega TV shows live online at http://www.greekboston.com/tv/mega/.
Alpha TV: Alpha is one of the largest TV stations nationwide in Greece. Watch Greek TV online at http://www.greekboston.com/tv/alpha/.
Star Greece: Star Greece features a spectacular line-up of Greek series, game shows, gossip, news, and current affairs presented by some of Greece's most respected news personalities. Watch online at http://www.greekboston.com/tv/star/.
Ellas TV also streams music videos live on GreekBoston.com from Greece's top artists and bands on their Greek World Music Channel at http://www.greekboston.com/tv/world-music/.
Ellas TV also offers 4E, a religious TV channel run by the Orthodox Church of Greece and is the first television channel in the world dedicated to the Greek Orthodox faith and religion. Ellas Kids 1 is Ellas TV's own package of kid-friendly TV, with family-friendly programming from Greece, as well as American kid shows and movies dubbed in Greek (or Greek subtitles).
About Greek Boston
Since 1998 GreekBoston.com® has been the premier destination for Greeks living in and around the Boston Massachusetts and New England areas. Greek Boston is the biggest ethnic website for New England Greeks that features the following useful sections: Boston and New England Greek Festival calendar, Local Greek Events Section, Greek Travel, Greek News, Greek Recipes, Weekly Top 40 Greek Music Charts, Greek Wedding and Christening information, and so much more.
About Ellas TV
Ellas TV was founded in 2010. We are proud to provide an entire lineup of Greek-language programming through IPTV (Internet Protocol Television) service. By simply connecting our set-top box to your broadband connection and television set, you can enjoy the most popular Greek channels! Unlike Satellite, IPTV is not affected by weather changes, storms, etc. Ellas TV offers more than 100 channels, including channels in HD, and more children's and premium movie channels than any other Greek content provider. Included in your Ellas TV subscription is access to more than 5,000 video-on-demand titles & TV Series which provides access to this programming on your TV, PC and compatible smartphones, etc.