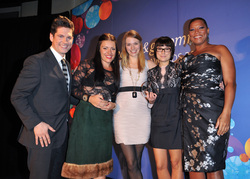 ELLECanada.com and ELLEQuebec.com took the stage in front of the Canadian fashion and beauty industry.
Montreal (PRWEB) November 17, 2010
Transcontinental Media took home an award last week at the prestigious Canadian P&G Beauty & Grooming Awards in Toronto. For the second year in a row, ELLECanada.com and ELLEQuebec.com won in the Best Fashion or Beauty Website category.
"Once again, ELLECanada.com and ELLEQuebec.com took the stage in front of the Canadian fashion and beauty industry. This award is a true testament to the exceptional work of our teams, their passion and unrivaled expertise. I applaud the efforts of everyone who contributed to this great success!" said Jocelyne Morissette, General Manager, Consumer sites.
The judges evaluated the sites based on ease of navigation, and newsworthy content. ELLECanada.com and ELLEQuebec.com stood out thanks to their quality content – both relevant and newsworthy – and their engaging user experience.
The P&G Beauty & Grooming Awards acknowledge excellence and recognize the best of Canada's beauty, grooming and fashion editorial content as well as the best creative talent in the country. An independent panel of expert judges reviewed and evaluated over 200 submissions and awarded prizes to 17 winners, who were announced during a ceremony held in Toronto on November 11, 2010. For more details, visit: http://en.pgbeautyandgroomingawards.ca/index.html.
About Transcontinental Media
The fourth largest print media group in Canada, with more than 3,000 employees and annual revenues of $607 million in 2009, Transcontinental Media is the largest publisher of French language consumer magazines and educational resources in Canada, and the largest publisher of local and regional newspapers in Eastern Canada. Transcontinental Media publishes the weekday daily Métro in Montreal and Halifax. It is also the leading distributor of door-to-door advertising material in Quebec with Publisac. Transcontinental Media is distinguished by its custom publishing, mailing and customized email database, which allows users to maintain close relations with more than 6 million consumers. Transcontinental Media has more than 150 web sites, attracting more than 9.5 million unique visitors per month.
Transcontinental Media is a subsidiary of Transcontinental (TSX: TCL.A, TCL.B, TCL.PR.D) which has operations in Canada, the United States and Mexico, and reported revenue of C$2.4 billion in 2009.
###