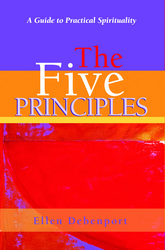 If I had one wish for the world, it would be that every adult reexamine his or her view of God at least once per decade. God may not change, but people do, and we outgrow our old concepts
Unity Village, MO (Vocus) July 20, 2009
Reporter turned Unity minister Ellen Debenport has written a provocative new book aimed, in her words, at defining "God for grown ups." The book, called The Five Principles, was released July 20 by Unity House. "If I had one wish for the world, it would be that every adult reexamine his or her view of God at least once per decade. God may not change, but people do, and we outgrow our old concepts," Debenport said.
Debenport, raised a Baptist, discovered that her own initial concept of God fell short when it came to answering life's big questions, such as why bad things happen to good people. She drifted away from her religious roots in college. For the next 25 years Debenport threw herself into her career as a political reporter for United Press International and the St. Petersburg Times in Florida.
In mid-life, she began to reconsider. "I think a lot of people have a story similar to mine, which is that I went to school, I did everything right, I had the job. A lot of people get married and have children and around age 40, a lot of us come up empty. It turns out those have not been the answers we were looking for, and then the journey turns within. Spirituality becomes a quality of life issue," Debenport said.
Ultimately, Debenport left journalism to become a Unity minister. In the process, she came to understand God as something more than a cosmic Santa Claus, dispensing rewards to those who obey the rules and punishment to those who don't. Rather, the "grown up" God is woven into the fabric of existence as a silent source of guidance, wisdom and support--even love.
Debenport asserts that the meaning and purpose of life are revealed through a set of universal spiritual laws. They are: 1) God is all there is; 2) We express God in human form and are therefore inherently good; 3) Our thoughts and feelings have the power to create our reality; 4) Prayer keeps us in alignment with God and draws forth our highest good; and 5) The principles require action in our lives.
Present in the teachings of every major religion, the five principles also form the basic tenets of the Unity movement, a progressive, "New Thought" interpretation of Christianity founded in 1889 by Charles and Myrtle Fillmore.
"As a Unity minister," said Debenport, "I have spent years teaching and speaking about the five principles. The more I delved into them, the more I came to appreciate them as answers to the large questions of life. I have not yet found a situation in which one or more of them can't be used as an immediate tool to shift my thinking."
The ideas set forth by Unity's Fillmores and other New Thought sages have been popularized in several recent bestselling books including The Secret, by Rhonda Byrne and A New Earth, by Eckhart Tolle
"The Five Principles is a fresh take on these ideas for people looking to fill a God-shaped hole in their lives," said Debenport. Far from esoteric, The Five Principles offers clear and practical guidelines for abundant living.
The Five Principles: A Guide to Practical Spirituality (ISBN 978-0-87159-330-6) is 141 pages in soft cover with a cover price of $12.95. The book is available through the Unity House Website (http://shop.unityonline.org) and through distributors DeVorss, New Leaf, and Ingram.
A video of Debenport discussing The Five Principles is available on YouTube.
About Ellen Debenport
Before becoming a Unity minister, Ellen Debenport was a journalist for 25 years. After reporting mostly on politics in three different bureaus for United Press International, Debenport joined the staff at St. Petersburg Times in Florida, where she became political editor and traveled the country covering presidential campaigns, along with gubernatorial and U.S. Senate races in Florida. Her last posting for the St. Petersburg Times was in its Washington, D.C., bureau covering social issues such as welfare reform, immigration and civil rights for women, gays and ethnic minorities. She has a bachelor's degree in journalism from Baylor University.
Ordained a minister in 1999, Debenport has served as senior minister to Unity churches in Dallas and Wimberley, Texas. She currently serves on the Board of Directors at Unity School of Christianity and is the Internet radio host of "Absolute Living" at Unity.FM (http://www.unity.fm). Her Website is http://www.ellendebenport.com.
About Unity
Unity is a positive, practical, progressive approach to Christianity based on the teachings of Jesus and the power of prayer. Unity focuses on the teachings of Jesus and how to apply them in everyday life, rather than focusing on Jesus as a person. In Unity, Jesus is viewed as the great example of what is possible for humankind, rather than the exception.
Unity co-founders Charles and Myrtle Fillmore wanted to help people realize their oneness with God, and to demonstrate the amazing power of the Christ spirit within. They taught others how to see the Christ in themselves as well as in others.
The organizations that carry forth the Fillmores' work are the Unity School of Christianity and the Association of Unity Churches International and its member churches. Unity is also part of the broader New Thought movement. Unity School is headquartered at Unity Village, Missouri, on a 1400-acre tract 15 miles southeast of Kansas City. The Association of Unity Churches International is headquartered in Lee's Summit, Missouri, just a few miles from Unity Village.
Unity House®, the multimedia publishing arm of Unity School of Christianity, has been publishing spiritual books and magazines since 1903.
For more information, visit http://www.unity.org.
Contact:
Paula Coppel
Vice President of Communications
Phone: (816)251-3534
Web site: http://www.unityonline.org
###