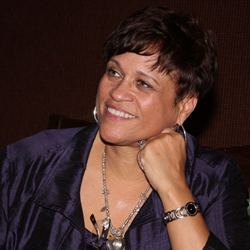 Ingrid provides a wide-angle view of the education industry, and a well-developed understanding of our organization's structure and purpose for being.
Irvine, CA (PRWEB) January 06, 2015
MIND Research Institute has promoted education industry veteran Ingrid Ellerbe to serve as its first-ever Chief of Staff. Ellerbe previously served as vice president of the engagement department, which oversees outreach and marketing efforts for the education and neuroscience social benefit organization.
As chief of staff, Ellerbe leads the execution of strategies developed by the executive team leveraging expertise acquired over 30 years at education companies, as well as 7 years at MIND Research. In this role, she acts as a force multiplier for the CEO.
"Ingrid provides a wide-angle view of the education industry, and a well-developed understanding of our organization's structure and purpose for being," said Matthew Peterson, Ph.D., CEO and co-founder of MIND Research. "I can think of no one better suited to serve in this critical new role."
Ellerbe's extensive experience in educational technology, publishing, and content in both the K-12 and higher education industry, includes past positions at Carnegie Learning, Edison Schools/Newton Learning, ProQuest Company's education unit, XanEdu, Boxer Learning, Hewlett-Packard, SkillsBank Corporation, Commodore, Davidson & Associates, and Broderbund.
Ellerbe joined MIND Research in 2008, leading the marketing efforts that helped the organization grow from reaching 100,000 students annually to more than 800,000. She also oversaw marketing programs including the launch of a touch-enabled version of ST Math software for tablets, new middle and high school ST Math programs, and the establishment of philanthropic math initiatives in 15 urban school districts. She helped position the organization's leaders on the national stage, including through popular TEDx Talks by CEO Matthew Peterson, and creating partnerships between MIND Research and nationally recognized industry associations, partners and advocates to expand awareness and understanding of MIND's programs and mission.
"In my entire career, no organization has resonated more with my heart and mind than MIND Research Institute," said Ellerbe. "I'm excited to evolve through innovation at every level while simultaneously – and most importantly – positively impacting the lives of hundreds of thousands of students across the country.
Ellerbe continues to serve as acting vice president of engagement while the national search for that position gets underway.
MIND Research Institute
MIND Research Institute is a neuroscience and education social benefit organization, dedicated to ensuring that all students are mathematically equipped to solve the world's most challenging problems. MIND's distinctive visual approach to math and problem-solving is the basis of its innovative, research-proven ST Math® programs for elementary and secondary schools. The visually-based ST Math program has been shown to double or triple schools' growth rates in math proficiency. MIND's programs currently reach 800,000 students and 31,000 teachers in 2,500 schools in 40 states. For more information, visit http://www.mindresearch.org.