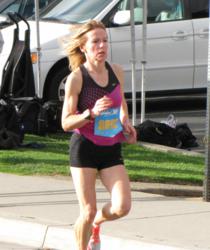 San Diego, CA (PRWEB) July 19, 2012
The ElliptiGO Project, a group of elite runners focused on using innovative training tools and techniques to improve performance, today announced another outstanding performance by masters runner, Christine Kennedy.
Kennedy, the 2011 USATF Masters Athlete of the Year, clocked a 39:30 at the Masters 10K Championships to win the W55-59 age group by more than 4 minutes. This earned her an age-graded performance of 96.23%, which was the highest in the entire race.
Age-graded scoring provides each race finisher with a percentage value that enables them to compare their performance against any other racer, regardless of age or sex. Kennedy's win in the age-graded performance scores is therefore truly indicative of how well she continues to perform year after year.
As an inaugural member of The ElliptiGO Project, Kennedy is using innovative training tools and techniques to stay healthy and continue racing at the highest levels. Her hard work and dedication is reflected in this National Championship and bodes well for the future of the Project.
About The ElliptiGO Project
The ElliptiGO Project exists to make runners faster through innovation. It is currently growing membership, adding new innovative running tools, and affiliating with other organizations that share the same goal of improving athletes' performance through innovation. The Project tests new training techniques through competition, both on the track and on the road, and reports its findings with candor. http://www.theelliptigoproject.com
# # #