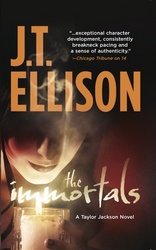 Outstanding... potent characterization and clever plotting... Ellison systematically cranks up the intensity all the way to the riveting ending. - Publishers Weekly (starred review)
Nashville, TN (PRWEB) September 13, 2010
Acclaimed author J.T. Ellison explores the dark deeds adolescents are capable of when they become involved with occult rituals in THE IMMORTALS (MIRA Books, October 2010, $7.99 U.S./$9.99 CAN.), the newest book in the Taylor Jackson series.
Ms. Ellison will be appearing on multiple national and regional radio programs and will be touring her new novel regionally.
Advanced Review Copies available from NetGalley
It is Samhain--the Blood Harvest. Non-believers call it Hallowe'en. It's also the night when eight
Nashville teenagers are found dead, with occult symbols carved into their naked bodies. It's a ritual the killers believe was blessed by Death himself.
When children are victimized, emotions always run high, and this case has the public both outraged and terrified: a dangerous combination. Recently reinstated Homicide Lieutenant Taylor Jackson knows she has to act quickly, but tread carefully.
Exploring the baffling culture of mysticism and witchcraft, Taylor is immersed in a darkness that threatens to unbalance the order of her world, and learns how unchecked wrath can push a killer to his limits.
THE IMMORTALS
J.T. ELLISON
$7.99 U.S./$9.99 CAN.
ISBN-13: 978-0-7783-2763-9
PRAISE FOR THE TAYLOR JACKSON NOVELS:
"What Jeff Lindsay's Darkly Dreaming Dexter does for Miami, Ellison's Jackson novels do for Music City."
--Nashville Scene
"A terrific lead character, terrific suspense, terrific twists…a completely convincing debut."--New York Times bestselling author Lee Child on All the Pretty Girls
"Fusing gritty cop drama with dark psychological thriller, Ellison distinguishes herself with exceptional character development, consistently breakneck pacing and a sense of authenticity."--Chicago Tribune on 14
ABOUT J.T. ELLISON
J.T. Ellison is the bestselling author of the critically acclaimed Taylor Jackson series, including All The Pretty Girls, 14, Judas Kiss and The Cold Room. Her novels have been published in 21 countries, and she was named "Best Mystery/Thriller Writer of 2008" by the Nashville Scene.
Ellison grew up in Colorado and moved to Virginia during high school. She is a graduate of Randolph-Macon Woman's College and received her master's degree from George Washington University. She was a presidential appointee and worked in The White House and the Department of Commerce before moving into the private sector. As a financial analyst and marketing director, she worked for several defense and aerospace contractors.
After moving to Nashville, Ellison began research on a passion: forensics and crime. She has worked with the Metro Nashville Police Department, the FBI, and various other law enforcement organizations to research her books.
Her short stories have been widely published, including her award winning story "Prodigal Me" in the anthology Killer Year: Stories to Die For, edited by Lee Child, "Chimera" in the anthology Surreal South 09, edited by Pinckney Benedict and Laura Benedict, and "Killing Carol Ann" in First Thrills, edited by Lee Child.
She is the bi-monthly Friday columnist at the Anthony Award nominated blog Murderati and is a founding member of Killer Year, an organization that was dedicated to raising awareness for the debut novelists of 2007. She maintains a personal blog at Tao of JT.
Ellison is a member of several professional writing organizations, including International Thriller Writers, Mystery Writers of America and Romance Writers of America. She has an active following on Twitter under the name @Thrillerchick, and a robust Facebook community.
She lives in Nashville with her husband and a poorly trained cat.
A full media kit is available on JT's website
###