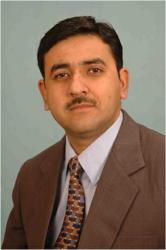 Rajinder brings a wealth of experience and business acumen that will be extremely valuable to discovering new markets and applications for Ellsworth Adhesives in the Indian market.
Germantown, WI (PRWEB) November 12, 2012
Ellsworth Adhesives, the world's largest distributor of adhesive products and dispensing equipment, is pleased to announce the addition of Rajinder Khanna as the new Business Director for India. In this role, Rajinder will lead Ellsworth Adhesives' India team in developing country-wide infrastructure and accelerating the growth of the company's specialty chemical distribution and custom packaging businesses in the region.
Rajinder comes to Ellsworth with over 22 years of commercial experience in the adhesives and specialty chemicals industry. His past experience includes 16 years with Dow Corning, one of Ellsworth Adhesives' key global suppliers, focusing on their Industrial, Automotive, Construction, and Thermoplastics businesses. Ranjinder will manage a distribution business representing world-leading suppliers of adhesives, sealants, and assembly equipment, http://www.ellsworth.in/index.html.
Rajinder Khanna will report directly to Kelvin Wu, Managing Director of Ellsworth Adhesives Asia. Describing the appointment, Kelvin commented, "We welcome Rajinder to the Ellsworth team. Rajinder brings a wealth of experience and business acumen that will be extremely valuable to discovering new markets and applications for Ellsworth Adhesives in the Indian market. We look forward to Rajinder's energy, commitment and leadership in our new business efforts."