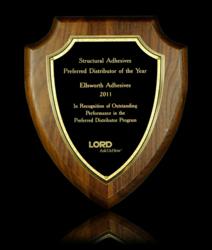 Germantown, WI (PRWEB) January 25, 2012
LORD Corporation, Cary NC, has named Ellsworth Adhesives 2011 "Distributor of the Year" in the Product Assembly Division for the United States. Ellsworth Adhesives was honored to receive the distinguished award based on overall performance in the areas of sales, new account development, and customer service and support.
Presenting the award for LORD Corporation, Matthew Ryan, National Distribution Manager, stated, "Ellsworth's 2011 results representing LORD Product Assembly were impressive. Their performance in new account growth, the effective multi-level engagement between our companies and the implementation of key initiatives resulted in outstanding profitable sales growth. We appreciate their efforts on behalf of LORD Corporation."
Accepting the award on behalf of Ellsworth Adhesives, Roger Lee, Vice President & General Manager of Ellsworth Adhesives, North America, expressed his gratitude to LORD Corporation for the honor and thanked the LORD team for their technical and service support. "LORD Corporation has been a terrific partner for Ellsworth, and we look forward to continued growth as LORD continues to innovate new technologies for our key markets," remarked Lee.
View all LORD Corporation products on Ellsworth.com >>
About Ellsworth Adhesives
Ellsworth Adhesives is the world's largest distributor of adhesive products and equipment. Ellsworth Adhesives is a value added supplier of adhesives, sealants, coatings, encapsulants, tapes, releases and lubricants from leading international manufacturers including, Dow Corning, Dymax, Emerson & Cuming, Fisnar, LORD, Techcon, Humiseal and many others and offers the most comprehensive level of technical expertise available. Ellsworth Adhesives operates sales offices and warehouses in the United States, Canada, Mexico, Brazil, China, Hong Kong, Malaysia, Australia, France and Thailand. Ellsworth Adhesives can be contacted directly at 1-800-888-0698 or by logging onto http://www.ellsworth.com.
###