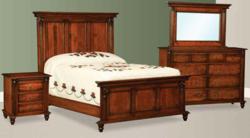 Speak with our knowledgeable staff about customizing this collection for your home.
Shipshewana, Indiana (PRWEB) December 17, 2012
Since celebrating their 23rd anniversary, Weaver Furniture Sales has been busy introducing the Ellyons Bedroom Collection, a brand new Amish Style Furniture collection that effortlessly joins traditional and modern designs into a unique style. Inspired by the Victorian style wood bedroom furniture and built with traditional woodworking methods, the Ellyons collection is sure to thrill furniture-enthusiasts for generations to come.
Weaver's had a busy 2012 year, hosting both an Independence Day sale and a 23-day-long anniversary sale. New visitors came to explore Weaver's huge Shipshewana Amish furniture showroom and came away with beautifully-crafted furniture and in some cases, delicious Amish-made treats. New furniture styles debuted during the year, including the classic Ellyons Bedroom Collection.
Featuring a design that is rooted in the Victorian era, but built with the expertise of today's Amish craftsmen, the Ellyons collection is timelessly elegant. Design accents such as reeded columns, rope moldings, turned feet and a rich wood stain mark this collection. Store owner LeRoy says, "Speak with our knowledgeable staff about customizing this collection for your home."
For those seeking furniture that will last a lifetime, the Ellyons Bedroom Collection is a legitimate option. With the proper care, this classic collection will become a cherished collection for future generations to enjoy. Visit Weaver's store location in Shipshewana, Indiana to view their vast showroom and see more bedroom collections and home furniture. Also check out their website for additional Amish Furniture styles such as the Bungalow furniture style, custom options and store history.
About Weaver Furniture Sales:
Weaver Furniture Sales was established in 1989 in Shipshewana, Indiana, and is an Amish, family-owned furniture business that offers a full line of solid wood, Amish Furniture at affordable prices – for both residential and commercial purposes. Weaver Furniture Sales features shaker styles, traditional and mission furniture. As part of their client services, Weaver Furniture Sales provides furniture design consultation services, custom furniture options, furniture quotes, layaway options and various delivery alternatives for residences and businesses in the United States from their quiet country showroom in Shipshewana, Indiana.
LeRoy and Ida Weaver have owned and operated Weaver Furniture Sales for over twenty-two years, beginning with a 1,500 square foot showroom and expanding to over 15,000 square feet today. Previously, they owned and managed LeWana Dairy Farm where they milked cows and raised corn and hay.