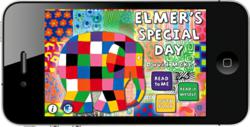 Elmer's vibrant colors and festive surroundings are ideal for an interactive app.
Encinitas, Calif. (PRWEB) May 10, 2011
Oceanhouse Media, Inc. has secured a licensing agreement with Andersen Press to bring the classic Elmer the Patchwork Elephant books to the digital market. The first omBook (Oceanhouse Media digital book) to be released in the series is Elmer's Special Day, available on the App Store and Android Market for $2.99.
"Elmer's vibrant colors and festive surroundings are ideal for an interactive app," said Michel Kripalani, founder and president of Oceanhouse Media. "Our wonderful partnership with Andersen Press is sure to make Elmer fans happy as we bring more of the popular Elmer titles to the digital marketplace."
A universal favorite since the first book debuted in 1989, the stories of Elmer the Patchwork Elephant have been published in more than 20 languages. Elmer is distributed in the U.S. by Lerner Publishing Group. Written and illustrated by David McKee, Elmer's Special Day has the gray elephants decorating themselves for the annual Elmer's Day Parade. Since only Elmer is allowed to be elephant colored on that day, he rolls around in elephant colored berries to hide his patchwork colors. The noise and preparations, however, upset the other jungle animals. Elmer finds a solution by offering to include them in the day's festivities so no animal is excluded. In appreciation, the animals put on elephant masks in honor of Elmer and they all happily join the parade.
School Library Journal says of Elmer's Special Day, "The impact of the creatures coming together as a community to celebrate is a satisfying conclusion - everyone is having a great time and no one feels left out. A strong addition to the popular series."
"It's a pleasure working with Oceanhouse Media to bring Elmer to an even broader audience," said Sarah Pakenham, Rights Director for Andersen Press. "In Elmer's Special Day, Oceanhouse Media has taken McKee's beautiful story and illustrations and created an app that stays true to McKee's messages that it's okay to be different and that it's important to accept others."
Aimed at readers in preschool through grade 2, Elmer's Special Day features three options: Auto Play (geared toward younger readers), which plays like a movie by automatically reading and turning pages; Read to Me, which allows users to listen to the narrated story with words highlighted as they are read; and Read It Myself, which lets users read the book in its traditional format. Additional features include original artwork, picture/word association, word highlighting, professional audio narration and scene-by-scene custom background audio.
About Oceanhouse Media, Inc.
Creators of the award-winning Dr. Seuss book apps, Oceanhouse Media, Inc. is a leading publisher of more than 175 mobile apps for iOS (iPhone, iPad, iPod Touch) and Android devices. The company was founded in early 2009 by Michel Kripalani, formerly CEO of Presto Studios and Director of Business Development at Autodesk. The company has sold more than one million paid apps with twelve reaching the number one spot within their categories on Apple's App Store.
Oceanhouse Media's corporate focus is to uplift, educate and inspire through technology. For more information, visit http://www.oceanhousemedia.com. Follow the company at http://www.facebook.com/OceanhouseMedia and http://twitter.com/OceanhouseMedia.
About Andersen Press
Andersen Press is one of the UK's foremost independent children's book publishers, creating internationally famous picture books and a range of prize-winning fiction for young adults.
Founded in 1976 by Klaus Flugge, the company now consists of more than 1,000 published titles.  For further information, visit Andersen Press at http://www.andersenpressusa.com/.
omBook is a trademark of Oceanhouse Media, Inc.
Android is a trademark of Google, Inc.
###