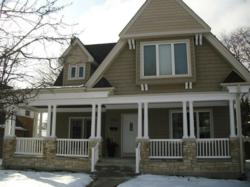 Chicago, IL (PRWEB) May 23, 2013
There are many factors to consider when updating the exterior of a home. "Simply changing the front door can make a dramatic difference," says Phil DiMaso, owner of Durabuilt Home Improvements. "Updating siding with fiber cement options such as James Hardie, not only brings instant gratification but offers increased energy efficiency and protects a home from harsh winters. Upgrading windows instantly improves the look of a home and saves money on energy bills. Homeowners can also create dimension and interest by combining various materials: for example, accenting gables and dormers with fiber cement shake or scalloped panels."
Homeowners often focus on updating the inside of a home; however the exterior is just as important. Creating "curb appeal" is real estate language for making a good first impression. Giving a home an exterior facelift can increase a home's value, require less maintenance, and save money by increasing efficiency. Investment in the façade of a house can have as significant an impact on its value as putting in a new kitchen or bathroom.
In Western Springs, a homeowner wanted to transform an ordinary, bland home to reflect the character of some of the more modern styled homes suited to their changing suburban neighborhood.
"We basically rebuilt the entire front of the house," explains Phil DiMaso, owner of Durabuilt Home Improvements. "The homeowner wanted to give the home a complete facelift, so we extended the front of the house 14 feet, extended the second floor dormers, poured a new concrete slab, built an enclosed front porch, and added decorative stone columns with pillars to support the porch roof. In addition, we replaced the siding, windows, and roofing on the entire house. The homeowner was thrilled with the results of the project that dramatically enhanced the look of the house."
Durabuilt Home Improvements specializes in exterior services that include installation of entry doors, window replacement, siding, soffit, fascia, decks, fencing, and much more. For more information about this company, please call (630)941-1800, visit their website at http://www.durabuilthi.com.
About Durabuilt Home Improvements
Durabuilt Home Improvements began with one goal in mind, total customer satisfaction. With over 20 years of experience their company has established a reputation for providing exceptional customer care and quality workmanship at competitive prices. Their services include installation of entry doors, window replacement, installation of siding, soffit, fascia, awnings, canopies, kitchen and bath remodeling and basement refinishing. Their showroom features product samples the customer can see and touch. Ownership gets involved with every aspect of the job, from initial sales to installation. They happily serve Elmhurst, Addison, Villa Park, Wheaton, Downers Grove, Naperville and Bloomingdale.