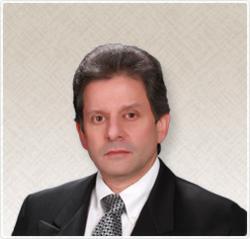 Sharing the road means there's a mutual responsibility among motorcyclists and motorists to keep our roads safe.
Elmira, NY (PRWEB) May 03, 2012
Elmira motorcycle accident attorney Scott C. Gottlieb today urged motorcyclists and motorists alike to take May's designation as "Motorcycle Safety Awareness Month" to heart and look out for each other.
"'Share the road' is more than a slogan. It's a reminder that everyone has a right to use New York roads with the confidence that others around them are acting safely," said Gottlieb of the personal injury firm, The Law Offices of Scott C. Gottlieb & Associates, LLP.
"Sharing the road means there's a mutual responsibility among motorcyclists and motorists to keep our roads safe," he said.
Throughout May, in observance of Motorcycle Safety Awareness Month, the National Highway Traffic Safety Administration (NHTSA) encourages motorists to share the road with motorcyclists and be extra alert when they are nearby.
The NHTSA says motorcyclist fatalities increased slightly in 2010 to 4,502, which was 14 percent of total highway fatalities for the year. The increase in fatal motorcycle wrecks in 2010 renewed a 13-year trend that was interrupted by a one-year decline in 2009, when 4,469 motorcyclists were killed.
In New York in 2010, 173 motorcycle drivers died, or more than 3 percent of the motorcyclists involved in a reported 5,570 motorcycle crashes, according to the state Department of Motor Vehicles (DMV). The DMV says 4,819 motorcyclists, or 86.5 percent of motorcyclists involved in crashes, were injured in accidents in 2010. Another 520 motorcycle passengers were hurt.
Gottlieb, whose firm investigates personal injury lawsuits and negotiates insurance settlements in central New York on behalf of motorcyclists, said car, truck and bus drivers must remember to look out for motorcycle riders. He added that motorcycle riders must also obey traffic laws, including wearing DOT-compliant helmets and other protective gear. They should also make themselves visible to motorists by wearing bright colors, he said.
"Drivers must take extra care when they are sharing a road with a motorcycle," Gottlieb said. "Motorists need to make it a habit to leave plenty of room between their vehicles and motorcycles, check blind spots thoroughly when motorcycles are nearby and make sure they don't turn in front of motorcycles at intersections."
Even the safest motorcycle rider can be hurt in an accident caused by someone else, Gottlieb said. Those who are seriously injured because of a reckless or negligent act by another driver have a right to recover compensation for their losses due to medical expenses, property damage, and pain and suffering.
"Sometimes it takes a personal injury lawsuit or, in the case of a fatality, a wrongful death lawsuit to recover damages that the injured party is entitled to and in fact needs to fully recover," the veteran Elmira personal injury lawyer said.
"At our firm, we are proud to stand up for the rights of injured motorcyclists and will continue to promote safe practices on the part of motorcycle riders and all others who use our highways.
About The Law Offices of Scott C. Gottlieb & Associates, LLP
The Law Offices of Scott C. Gottlieb & Associates, LLP, handle all types of personal injury and motor vehicle accident cases, including cases involving cars, trucks, motorcycles, ATVs, snowmobiles and boats. The firm also represents clients in actions for wrongful death, cancer misdiagnosis, dog bites, hunting accidents, birth injuries, brain injuries, construction accidents, fall down injuries and insurance settlements.
The firm regularly employs accident reconstruction experts, investigators, photographers and economists to assist in evaluating and preparing personal injury cases. In 2012, the firm reached the $125-million mark in combined lifetime verdicts and settlements. (Please note that prior results do not guarantee a similar outcome.)
Scott C. Gottlieb & Associates features offices in Binghamton and Syracuse and accepts cases from Rochester, Elmira, Watertown and other communities throughout central and upstate New York. For more information, call (800) TALK-LAW or use the firm's online contact form.
ATTORNEY ADVERTISING