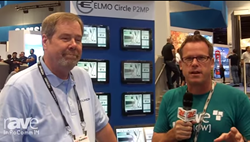 These technologies create engaging learning environments and offer features that simplify the job of the teacher.
VANCOUVER, WA (PRWEB) August 01, 2014
On June 18 – 20, Circle Technology, the pioneering Vancouver, Washington-based company formed by InFocus Systems founder Steve Hix, attended InfoComm 2014 in Las Vegas, Nevada to debut two groundbreaking products.
This year's show had a record breaking 37,000+ attendees from more than 114 countries with 947 exhibitors. Also in attendance was Gary Kayye, founder of rAVe (Publications), who conducted research for their annual Best of InfoComm Awards. The ELMO Circle P2MP won Best New Up and Coming Education Product. Circle Technology is proud to be acknowledged in such an event.
About Circle Technology
Circle Technology is a pioneering Vancouver, Washington-based company with a family of presentation system solutions. Our products allow you to present without the Internet, anywhere at any time. We offer a complete presentation system that provides the highest quality screen resolution or software solutions that allow you to utilize your own device (BYOD). With Circle Technology, you can rely on our single solution, instead of a multitude of technologies having to somehow work together, just a simple click and you begin. For more information about Circle Technology, log onto http://www.TheCircleTech.com.