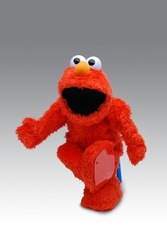 With today's technology we've been able to make the magic between child and toy even more seamless and exciting than ever
NEW YORK (PRWEB) February 15, 2008
Is it Live or is it Elmo Live? In this truly life-like creation, for the first time ever, Elmo seems to actually be speaking as his mouth opens and closes just like the real Muppet, Elmo, from Sesame Street. His mannerisms are right on target as his head bobbles back and forth as he speaks. He waves his arms, sits and stands, even crosses his legs, all the while telling stories and jokes, singing songs and playing games. Children can activate the magic with a tickle or a squeeze of Elmo's foot, tummy, back or nose.
"Initial reaction from industry insiders has been so strong and so decisive - even greater than the initial response to T.M.X.(TM) Elmo two years ago -- that we just couldn't keep this a secret and realized this story must be told now," says Neil Friedman, president of Mattel Brands.
Toy Wishes contributing editor Chris Byrne, aka The Toy Guy(R), calls Elmo Live an industry changing toy. "Elmo Live is way too innovative and exciting to keep secret!" he says. "The level of technology and reality is industry changing to be sure, but even as amazing and awe-inspiring as that may be to adults and even as that may create a new standard for interactive plush, Fisher-Price hasn't forgotten that the people who really need to be wowed are the preschoolers who adore Elmo. Elmo Live delivers a rich play experience that is engaging and interactive. It's as close to being with Elmo in the fur as any toy has ever been!"
This is the most life-like Elmo ever developed, according to Fisher-Price vice president of marketing Gina Sirard. "With today's technology we've been able to make the magic between child and toy even more seamless and exciting than ever," she says. "This Elmo is packed with unprecedented movement and an abundance of creative content, never before featured in a plush product."
"The other Elmo toys made you laugh and dance, but Elmo Live really touches you. It's so amazingly alive," says Jim Silver, editor in chief, Toy Wishes Magazine.
Elmo Live will go on sale at retail nationwide on October 14, 2008, according to Ms. Sirard. "Though we are presenting a sneak peek of the product this week, there is so much more to Elmo Live that will be fully revealed as we approach the on-shelf date," she explains, noting that pre-sale opportunities will be available in the spring for consumers to reserve Elmo Live for delivery on October 14.
Elmo Live, for children 18 months and up, will retail for approximately $59.99.
Editors Note: Images and /or b-roll footage available upon request.
Fisher-Price, Inc., a subsidiary of Mattel, Inc. (NYSE: MAT) and located in East Aurora, New York, is the leading brand of infant and preschool toys in the world. The Company has a 75-year legacy of high-quality toys that enhance early childhood development. Its often-emulated Play Laboratory was the first child research center of its kind in the toy industry, allowing researchers to observe the way children play and how play benefits their development. Some of the Company's best-known "classic" brands include Little People(R), Power Wheels(R) and View-Master(R). Fisher-Price is also a leading developer of baby gear products (nursery monitors, infant swings, high chairs) as well as a wide array of character-based toys inspired by high quality children's programming such as Sesame Street(R), Dora the Explorer(TM) and Winnie the Pooh. The Company's web site, at http://www.fisher-price.com, provides valuable information and resources to parents.