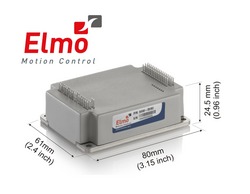 Tel Aviv, Israel (PRWEB) June 21, 2008
Elmo announced a new addition to its ExtrIQ (Extended Environmental Conditions) products line. The Hawk delivers up to 5KW of continuous qualitative power, exhibits high power density delivering up to 70 Amps peak current
"The Hawk is a military servo drive compliant with Military Standards and is designed, verified and qualified to operate in extreme environmental conditions". It is one step further in Elmo's leadership to incorporate highly efficient and super compact power density products. The Hawk supports a wide variety of feedbacks and has vector control sinusoidal commutation with advanced filtering and velocity gain scheduling for enhanced dynamic performance. Operating with a single DC bus of 11VDC -195VDC (three voltage ranges) with built-in smart control to supply back-upcapabilities it is based on SimplIQ core motion control technology
The Hawk is designed, verified and qualified to operate in extreme environmental conditions such as
•tOperating Ambient Temperature Range: -40°C to +71°C (-40°F to 160°F)
•tOperating Mechanical Vibrations: 20 Hz -2000 Hz, 14.6 g
•tOperating Altitude: -400m to 150,000m (-1,000 to 510,000 ft)
•tOperating Mechanical Shock: ±20 g
Elmo Motion Control's Hawk is a "PCB Mounting" servo drive solution providing top servo performance, networking and intelligent capabilities with high level programming environment. The Hawk weighs a mere 165grams, offering an extremely attractive miniature space saving answer. Unique to the market, the combination of the PCB mounting, high power capabilities and programming flexibility with the ability to provide a wide variety of feedbacks and CANOpen networking, makes it a highly effective solution
SimplIQ Core Motion Control Technology
The Hawk is based on Elmo's core motion control technology and benefits from advanced programming capabilities, rich set of feedbacks, versatile power capabilities and communication support. The Hawk is capable of operating in position, velocity and current modes and contains a wide range of feedback and I/O options. By using Elmo's software, users can easily perform drive setup, configuration, tuning, analysis and programming.
About Elmo
Elmo Motion Control is an innovative provider of feature rich motion control solutions for machine manufacturers. The company's product offering includes network-based motion controllers, intelligent digital servo drives and highly efficient servo amplifiers for both brush and brushless motors. For more information about the Hawk servo drive, visit http://www.elmomc.com
###