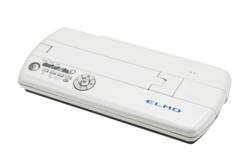 The MO-1 can help make presentations more engaging, effective and educational for all audiences."
-Matt Takekoshi, ELMO USA
Plainview, NY (PRWEB) April 19, 2012
ELMO USA, leaders in education technology for more than 90 years, are proud to introduce a brand new, broad application device to the world of advanced presentation technology. The Visual Presenter MO-1 is a completely new-concept mobile document camera designed for instructions and presentations anywhere in or out of the classroom or office. The MO-1 is one of the highest quality imaging mobile presenters on the market for utilization during lessons and meetings, reviewing written contracts, magnifying small product parts, demonstrating smart phones and tablets and can even be used as a webcam for online meetings.
Smaller than a business envelope and weighing only 1.3 pounds, the MO-1 can easily fit inside a jacket pocket or small handbag for convenient access in any situation The MO-1 may be compact in size, but its true color reproduction of five Megapixels creates a powerful and vivid presentation of images, documents and three dimensional objects via projector or digital monitor.
"As part of our ongoing initiative to create interactive classroom and workplace technology, our new product, The ELMO Visual Presenter MO-1, goes even a step further," says Matt Takekoshi, President of ELMO USA. "Today, with the majority of teachers and professionals constantly on the go, the MO-1 can help make presentations more engaging, effective and educational for all audiences."
The MO-1 is designed to visually enhance presentations such as teaching, lecturing, vocational training and business meetings across unique applications such as cooking or food styling, jewelry making or beautician demonstrations, mechanical and electrical engineering and much more. With its innovative technology, the MO-1 is the key to engaging any audience and increasing their depth of understanding. The MO-1 clearly and precisely projects small items, documents and even live manual manipulation of objects through its 8X digital zoom and high definition image projection.
The versatility of the MO-1 is even more extensive as it can be used as a scanner to instantly transform documents, architectural models and product parts into digital data or connect to a computer for use as a webcam device with its built-in microphone.
The user-friendly device features an HDMI input/output, USB power capability, 5 Megapixel CMOS sensor, 30 fps (full-motion) when used in 720P, a 300˚ rotatable camera head, a 2 inch close-up projection and an SD card slot for image storage. It is also compatible with ELMO's CRA-1 wireless tablet for added presentation effectiveness. The MO-1 is available in pink, white or black and retails for $399.99.
About ELMO USA
ELMO USA has been a leader in education technology for more than 90 years. The company's cutting-edge innovations are shaping the future of visual communications. Foremost among these innovations are teaching tools for dynamic classroom presentations. ELMO's groundbreaking document cameras and visual presenters benefit students by enabling instructors to incorporate stimulating high-resolution visuals into their lesson plans. These value-priced, full-featured teaching tools offer a level of interactivity and spontaneity that static transparencies or "one-dimensional, pre-planned" laptop and desktop computer lessons simply do not. For more information about ELMO's educational products, visit http://www.elmousa.com or call 1.800.947.ELMO.